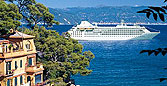 A world cruise is one of the highlights of the industry. Passengers stay aboard the ship for 30 to over 100 days and visit exotic and spectacular destinations. World Cruises vary from a voyage spanning across all continents or just parts of them. A world cruise becomes part of your life as you set sail for foreign lands and become accustomed to the exclusive service you receive on board while appreciating some of the great wonders of the world.
World voyages aboard all three Cunard ships will involve a degree of investment but a world cruise does not have to cost the earth and there are many other options to suit all budgets. Sovereign cruise deal with the best cruise lines in the world and have plenty of options for you to choose from. We can help you decide whether you want to begin your cruise in Southampton or in the US, whether you want to travel westbound or eastbound and what countries you would like to incorporate into your voyage.
It is possible for those needing a cheap world cruise to find a cruise to suit both your interests and your budget.
Return to World Cruises