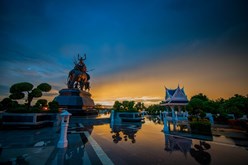 Asia is one of the most diverse, enlightening and important continents on earth. Thousands of islands with every type of landscape, from tropical lush jungles, to volcanic rocks and mountains, are utterly different to ours, while their people, cities and customs are equally individual yet often remarkably similar to ours at the same time.
The sights and sounds alone are worth the trip. The architecture and scenery are fascinatingly varied and colourful. The cuisine is almost infinitely varied, with even something as seemingly simple as sushi offering unique tastes and experiences, and the customs, dress and styles change almost from one street to the next.
There is so much to see and experience that it is impossible to cram it all into a single trip. You can enjoy a whole series of cruises dedicated to showcasing the remarkable islands and cities of Japan. Others will take you from Singapore to Thailand and Vietnam, or around the islands of the north antipodes, or hug the southern, tropical coasts of India, relaxing in the lush tropical weather.
Each one offers a riot of colour and visual splendour that will enchant and delight at every turn. Wherever you choose to travel around this most intriguing, interesting and inspiring region you will leave with memories to treasure for a lifetime.
Your transport

Regent luxury cruises to Asia offer some of the best options for the truly discerning traveller, while the legendary hospitality of Cunard is also on offer, along with Seabourn, Silversea, Oceania, Windstar and Azamara. Luxury is your byword, with every company providing accommodation that is truly faultless, with attentive personal service that takes care of the most tiny detail.
Visit locations such as -
Singapore
Thailand
Vietnam
Indonesia
Bali
Penang
Phuket
Kuala Lumpur
Hokkaido
Kobe
Tokyo
Hong Kong
Brunei
Sri Lanka
And many more