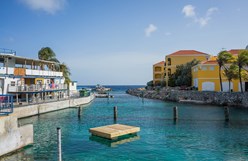 One of the most popular destinations for a cruise, the beauty, variety and luxury of the Caribbean islands makes them a fantastic destination. The beaches, seas, wildlife, nightlife, shores and inlets are so rich and lush that it's almost impossible to stop yourself wishing that you would never return home.
Caribbean life is taken at the perfect pace for a cruise at every turn. The easy-going nature of the people provides a welcome as warm as the climate, and the colourful, vibrant towns and cities are as delightful to drop in on as the beaches and bays.
Just the food alone is worth the trip, with the finest of dining and wines on board every liner that visits the area. You can begin or end your journey in the United States, giving the region so many destinations and stops that you'll need to come back again and again to truly experience the richness of life here.
In fact, there is so much to see and choose from that Sovereign Cruises would be delighted to offer you some personal advice on which cruise would best suit your budgets and expectations. Our team of luxury cruise experts will be able to book the right cruise to suit you.
Your transport
Many of the major cruises lines offer a Caribbean trip, so there is a whole host of options to choose from. Whether you join in Europe, or fly the Atlantic to pick up the cruise en route, every single option offers you levels of luxury and service that provide everything you could possibly wish for, every single moment of the trip.
Visit such locations as
Fort Lauderdale, Florida
Virgin Islands
Dominica
Grenada
Bonaire
St Lucia
Barbados
St Kitts
Antigua
Aruba
Bahamas