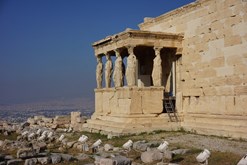 The Mediterranean has always been one of the most popular cruise destinations. It's close enough to be familiar, but it's still different enough to our everyday lives - who wouldn't want to visit Venice or Split? How could anyone resist the beaches of the south of France or Italy, and those glorious, azure waters?
Or if you prefer the historic and storied, there are locations that go as far back as the ancient Egyptians, the Peloponnesian Wars, the Romans, the Trojans and all the way up through the centuries to the present day.
Mediterranean countries are also well versed in welcoming visitors, so you know you'll be able to find what you're looking for in a way that makes the entire trip worth it.
As for which way to discover all of this, there are literally hundreds of cruises and itineraries to follow. Enjoy simple round trips, or detailed tours lasting several weeks and taking in dozens of locations.
All of the leading lines offer cruises here, with every kind of liner and every kind of style. North Africa, the Middle East, eastern Europe, Italy, France and the Iberian peninsula are all catered for in a huge variety of ways.
You could spend your entire holiday just looking through the cruises on offer, so perhaps it really would be a good idea to call us and ask for some recommendations.
Your transport

All of the major lines offer Mediterranean cruises - P&O, Cunard, Silversea, Seabourn, Princess and Crystal. They offer a whole range of vessels that mean you can travel in precisely the style you prefer, whether that is personal and intimate, or large and entertaining, comfortably off or thoroughly luxurious. Wherever you want to go, however you want to get there, you will find a cruise to offer exactly what you're looking for.
Visit such locations as
Istanbul
The Dardanelles
Olympia
Rome
Monte Carlo
Barcelona
Athens
Venice
Dubrovnik
Rhodes
Alexandria
Tunis
Piraeus
Santorini
Florence
Menorca
Valletta
St Tropez
Lisbon
Casablanca
Gibraltar
And many, many more