The gateway to the central and southern American continent, Mexico is always a popular destination. Its tropical climate, glorious beaches and vibrant cities always appeal, and it is a stopping point for many cruises that hug the coast of the New World.
Whether it's the world-famous Acapulco beach or the lesser known Ensenada, the west coast or the east coast, Mexico offers some truly exotic possibilities. Rich in wildlife, with vibrant cities and villages, there is always something to do onshore for the intrepid traveller.
See the ancient monuments and artefacts, taste the true Mexican cuisine, enjoy the lively nightlife or simply rest on board and soak up the endless sunshine and warmth.
Beginning and ending your voyage in San Francisco or Miami, these short seven, 10 or 14 night cruises give you the chance to marvel at the contrasts between North and Central American cultures - the differences are even more pronounced than you'd imagine.
Your transport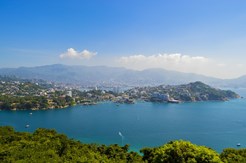 The most popular line for Mexico is Princess Cruises. They operate more Mexico cruises than any other, with all of their major ships making the trip - the Grand Princess, Crown Princess and Ruby Princess. Other lines include Regent, Crystal and Azamara, giving you a choice of some of the world's most luxurious and sumptuously appointed ships on the high seas.
Visit such locations as
San Francisco
Miami
The Cayman Islands
Acapulco
Cabo San Lucas
Puerto Vallarta
Loreto
Yucatan
Cozumel
New Orleans
Mazatlan
Costa Maya