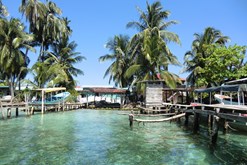 The Panama Canal is truly one of the modern man-made wonders of the world. Joining the Pacific to the Atlantic Ocean by bisecting Central America, it runs for just over 48 miles, and in some places, it is barely a foot wider than some of the ships that use it.
Taking just a few hours from one end to the other, it's normally a part of a longer cruise from west to east or vice versa, but it is nonetheless a journey that's well worth taking. Originally begun in 1881, the first company to attempt its construction went bankrupt, but it was subsequently revived by the US, and finally opened to traffic in August 1914.
Since then, it's been used by almost 1,000,000 vessels, including hundreds of cruise liners down the years.
Even today, it's still one of the most interesting parts of a central American cruise - for instance, you can start in San Francisco, sail down the west coast of Mexico, through the canal then north through the Caribbean to the US East Coast. Taking in the glorious Californian coast, you'll enjoy the beauties of Nicaragua as well as Costa Rica.
Then, after marvelling at the astonishing skill of your captain as he somehow squeezes your ship into a lock that appears to be far too small, you'll visit Colombia and Carolina on the way north to New York.
It may just be one day in an itinerary lasting as long as three weeks, but it will have an impact that will live long in your memory.
Your transport
Several lines offer cruises which take in the Panama Canal as part of their itineraries, including Princess, Seabourn, and Cunard. The Seabourn Odyssey, for example, offers exceptional accommodation, with each on-board restaurant allowing its head chef to take their own flights of fancy. Or there's Cunard's Queen Victoria, sister ship to the other Queens of the seas, which offers levels of luxury and entertainment that Cunard has spent over a century perfecting. Whatever your choice of voyage, Sovereign Cruises will ensure that you enjoy nothing but the very best in every particular.
Visit such locations as
Vancouver
Seattle
San Francisco
Charleston
New York
Cabo San Lucas, Mexico
Huatulco, Mexico
San Juan del Sur, Nicaragua
Puntarenas, Costa Rica
San Blas Islands, Panama
Fuerte Amador, Panama
Puerto Quetzal, Guatemala
Manzanillo, Mexico
Cartagena, Colombia
Aruba
Fort Lauderdale
Los Angeles