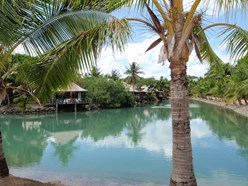 The vast Pacific ocean is home to an equally vast array of islands, peoples, cultures and lifestyles. From Samoa to New Zealand, from Fiji to Australia, from Micronesia to Vanuatu, the warmth of the welcome is matched only by the warmth of the climate.
Tropical islands in scattered archipelagos, teeming cities and deserted coastlines, vast ocean panoramas that shrink to tiny bays and lagoons, the South Pacific has them all.
Almost everywhere you visit will be utterly different to the last stop. Culturally, there is a world of difference between French Polynesia and Australia. Geographically, too, the rugged, mountainous coast of New Zealand is utterly different to the atolls and lagoons in Tahiti. Samoans are unlike Fijians, who are unlike Micronesians, and yet they all offer a welcome and approach that is reassuringly similar.
Equally, you can choose almost any length of trip. At one extreme is a two night hop along the northern Australian coastline, while at the other is a choice of cruises that are fully two months long - up to 55 nights at sea, crossing the international dateline not once, not twice, but three times in all, taking in the entire Pacific from Auckland to Sydney to the Solomon Islands to Hawaii and ultimately Los Angeles.
There truly is something for everyone here. Whether you're an intrepid adventurer or dedicated to easy-going relaxation, it's possible to find a South Pacific cruise to satisfy your every urge.
Your transport

Whatever your destination, it's possible to find the perfect way for you to travel the South Pacific. Ships such as the Golden Princess are like floating cities, with every possible amenity and luxury to hand, including spas, jogging tracks, art galleries complete with on-board auctions and even a nine-hole putting course. At the other end, there is the Silver Discoverer, with room for just 128 guests, that has a draft shallow enough to see the dolphins and whale pods truly close at hand. It also has its own glass bottomed boat to allow you to land closer to shore and explore the wetlands and sea life in depth, as it were.
Visit such locations as
Sydney
New Caledonia
Tahiti
Vanuatu
Fiji
French Polynesia
Cook Islands
Tonga
Vau'u Group of islands
Palau
New Guinea
Micronesia
Solomon Islands
Melbourne
Auckland
Dunedin
Wellington
Samoa
Marshall Islands
Kiribati
And many more