Luxurious yet casual cruising
Enjoy the freedom that takes you places: The first cruise ship for casual luxury.
If you're looking to explore the world in style, but want a simple and spacious alternative whilst still living in luxury, a Hapag Lloyd cruise offers all you need.
You can expect to enjoy:
Modern sophistication, elegance and style
Space and flexibility aboard
A yacht experience with all the serenity of a small resort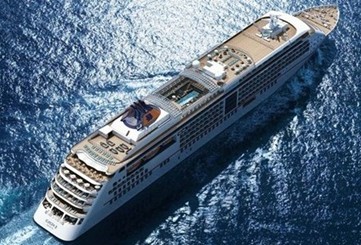 As you can expect from a ship in the EUROPA class, passengers can enjoy personal and attentive service, tailored cruise arrangements and high culinary standards. Not to mention shorter and combinable cruises in six of the most beautiful regions in the world. The EUROPA, the most beautiful yacht in the world, combines exceptional comfort, a classically luxurious atmosphere and the outstanding service of a 5 star-plus cruise ship.
Relaxed atmosphere, high standards
Besides culinary diversity and luxurious surroundings, wellness, fitness and a multi-facetted entertainment programme are the highlights of the MS EUROPA 2. All these features can be enjoyed in a relaxed atmosphere and, of course, at the unique high standard that you expect of a ship that proudly bears the name EUROPA. The Weltmeere Restaurant on board is a grand and spacious dining room; making it the largest restaurant on the ship. But passengers also have the freedom of choice to dine in any of the six other restaurants offering international dishes from a variety of different countries.
No other ship gives you more freedom than the EUROPA 2. So it goes without saying that the accommodation on board this contemporary ship is exclusively in suites, all with their own veranda. Eight types of suites offer plenty of space for you to feel at home.
In the Penthouse, Grand Penthouse and Owners Suites, there is a butler at your service around the clock. Each suite has been perfectly planned for you, right down to the smallest detail.
With the luxury of EUROPA and EUROPA 2, as well as expedition ships; HANSEATIC and BREMEN, the cruise line has succeeded in creating outstanding luxury ships that boast the very highest standards of hospitality.
Hapag-Lloyd are currently expanding their fleet with particular focus on the expedition market. Two new small ships are now under construction with both ships being positioned in the 5-star expedition segment. The two ships will be called HANSEATIC NATURE (debuts in April 2019) and HANSEATIC INSPIRATION (debuts in October 2019). Both ships will be identical in structure with each ship accommodating a total of 230 guests (199 guests on Antarctica cruises). They will be fitted with the latest cutting-edge equipment and environmental technology.