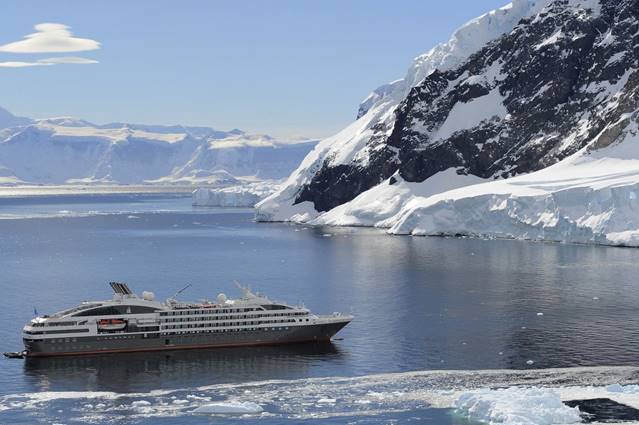 Enjoy our all inclusive luxury cruises
Embark for one of our luxury cruises aboard one of our PONANT ships and live the experience of a truly exceptional sea voyage with a difference. PONANT offers you the promise of unforgettable moments aboard our compact and intimately sized cruise yachts, all of which sail under the French flag. Discover the innovatively designed cruise ship Le Boréal and its three sister vessels: L'Austral, Le Soléal and Le Lyrial. Experience Le Ponant, our famous three-masted ship, with its 32 staterooms, each combining traditional authenticity with comfortable conviviality; and enjoy the pleasures of Le Lapérouse, a technologically cutting edge cruise ship, the first of the PONANT EXPLORERS series.
For 30 years now, our luxury cruise ships have been stopping at both famous, well-known ports of call and secret, hidden-away anchorages accessible only to low-capacity boats. The number one high-end polar cruise operator, we offer a range of discovery expeditions to the majestic landscapes of the Far North and the Arctic, sunny excursions to the heart of the Mediterranean, sea voyages along Celtic coasts and beautiful getaways to the secret islands of the Pacific.
We also operate themed luxury cruises offering unforgettable experiences for passionate devotees of specialist interests. Allow yourself to be tempted by one of our gastronomic cruises featuring cookery workshops hosted by renowned chefs, a golf cruise around the Caribbean or the Mediterranean with sea views, or enjoy the opportunity to visit exceptional locations on one of our many expedition cruises. Discover multi-faceted continents and forgotten lands endowed with natural treasures while enjoying the refined atmosphere and comfort of life onboard.
Combining wonderful itineraries with five-star hotel service, our exceptional luxury cruises à la française have been designed and conceived to deliver quality and excellence through an unprecedented sailing experience founded on the key concepts of discretion, refinement, and the simple art of living à la française.
Discover the incomparable pleasure of a more personal and intimate kind of cruise, discover PONANT.