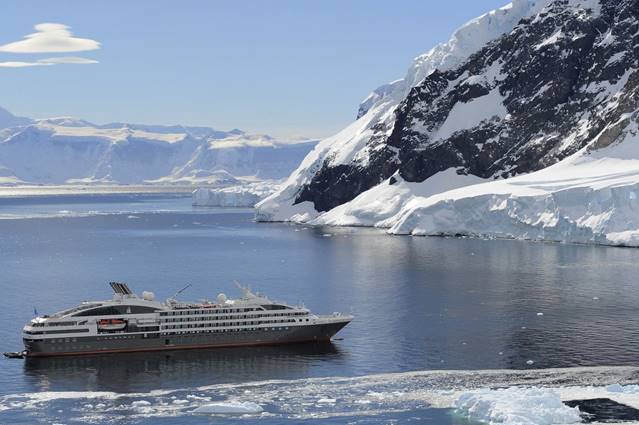 An exceptional fleet
Ponant invites you to discover - or rediscover - incredible destinations on board its five French-flagged ships:
•Le Ponant, a three-masted yacht with 32 cabins for a cruise that has a relaxed, friendly atmosphere
•L'Austral, Le Boréal and Le Soléal, three luxurious ships with 132 cabins and elegant, understated exterior and interior lines
•And our latest jewel, Le Lyrial, a fourth sistership with 122 cabins
Accommodating a maximum of 264 passengers, Ponant's ships let you maintain your privacy; you feel as if you are sailing on your own private yacht. A yacht serving the legendary ports of call and secret harbours that are only accessible to small ships.
Cruises with the French touch
On Ponant's cruise ships, it is only natural that a certain French art of living resonates through the main language spoken, the accessible crew, the French design, cuisine and wines, and the discreet service. Passengers of all nationalities truly enjoy the relaxed, cultured atmosphere.
The French Touch also means a way of living in which excellent gastronomy takes pride of place. Every day, you will discover fragrant flavours, carefully selected cheeses and wines, delicious specialty breads and sweet pastries imagined by Maison Lenôtre. And, as of very recently, Maison Taillevent now provides its fine selection of vintage wines by the glass, Maison Veuve Clicquot accompanies our gala cocktails, and the Ladurée bakery has a place of honour for afternoon tea.
Innovative itineraries
From five-star Culture and Relaxation cruises to Expedition cruises, Ponant creates exclusive itineraries that take you to new horizons. Their ships offer you the opportunity to explore every continent: a nature break in Northern Europe, a journey of discovery in South America, an idyllic cruise in the Caribbean or an amazing adventure among the Antarctic ice floes.
A unique travel experience
For more than 25 years, Ponant has been offering marvellous ways of getting away from it all. Sailing on board one of their ships means enjoying exceptional experiences as close as possible to nature, in the heart of virgin territory and in sites that combine dreams and history. It means discovering other cultures and traditions, and sharing memorable moments with tribes from the other side of the world. It means enjoying the magic of the Ponant Moment…