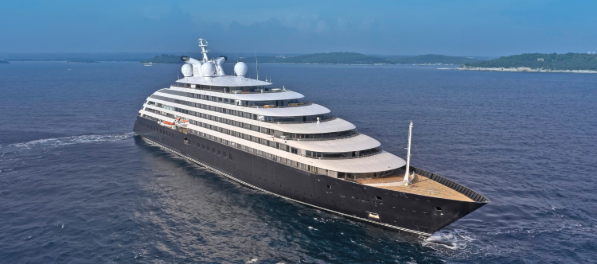 Discover a new world in a very different way.
Inspired by the sleek contours of a sailing yacht and custom-built with a steadfast commitment to safety and excellence in design, Scenic Eclipse combines a wealth of world-class facilities with the opportunity for unrivalled exploration.
From the Arctic to Antarctica and everywhere inbetween, enjoy exclusive excursions and pure indulgence on what promises to be the next generation in ocean cruising.
Intimate and luxurious, with every amenity you could wish for, Scenic Eclipse has been designed with you in mind. Delighting both the keen explorer and elegant traveller, the Worlds First Discovery Yachts are certain to surpass all your ocean cruising expectations.
With an almost 1:1 staff-to-guest ration, your time on board will be on of unparalleled indulgence. From the opulent Spa Sanctuary to the expansive array of dining experiences, spacious lounges and bars, outdoor terraces, and multiple pool areas, the luxrious wonders on board never cease.
From the moment you step on board, you will be spoilt for choice. With an abundance of public spaces and no more than 228 guests, only 200 in the Arctic & Antarctica, there is plenty of room for you to relax. Enjoy a cocktail in the elegant Lobby Lounge, spot an iceberg from the Observatory, or watch the world cruise by from your private veranda.
All-Inclusive dining
Dining on board Scenic Eclipse promises to be a sensory delight. With an unrivalled choice of up to 10 dining experiences, ranging from casual to fine-dining, inspired by all four corners of the globe, a multicultural adventure awaits.
From Lumiere contemporary French fine-dining to your favourite fillet steak cooked to perfection in our elegant Elements restaurant, or a casual meal in the Azure Bar & Cafe, there will always be something to tempt, delight and satisfy.
Elements The main restaurant featuring Italian, steak and seafood.
Chef's Table @ Elements An exclusive invitation to degustation dining.
Koko's Asian fusion restaurant and sake bar.
Sushi @ Koko's A wonderfully authentic Japanese experience*
Teppanyaki @ Koko's Private dining with an open Teppanyaki grill.
Lumiere Contemporary French fine-dining and Champagne bar.
Azure Bar & Cafe Relaxed all-day grazing.
Scenic Epicure Learn from the best in Scenic Eclipse' dedicated cooking school.
The Yacht Club Poolside grill, buffett and bar.
In-Suite Dining A comprehensive 24-hour dining menu.