The glorious Crystal Serenity is the largest ship sailing as a Crystal Cruises vessel, at 68,000 tons and capable of accommodating 1,080 passengers. The size of the ship however means that despite the large number of guests, every one enjoys a personalised service and more than enough space to relax, feel peaceful and independent. Like her sister ship the Crystal Symphony, the Crystal Serenity benefits from gloriously big public spaces, and shares many of the much-loved characteristics and services.
The Crystal Serenity is decked out in some of the most beautiful fittings and fixtures seen at sea. The grand lounges would not look out of place in some of the most prestigious hotels in the world, offering space and time for conversation over expertly made drinks. The sleek teak 360 degree promenade begs for relaxing strolls, morning noon and night.
The private spaces on board the Crystal Serenity are impressive and sumptuous, many benefiting from a private verandah, the elegant staterooms are beautifully appointed. The comfortable Queen-size beds are turned down with luxury quilts. Each stateroom also has its own separate seating area, and private bathroom.
The facilities on board the Crystal Serenity are wide-ranging, from a computer lab with taught classes - the Computer University@Sea, to a fitness centre to a library with a huge selection of books. On deck, the beautiful Seahorse Pool and Neptune Pool are the perfect places to relax in the open air. Guests who need to get away from it all can retreat to the Crystal Spa and Salon, which offers a full range of treatments in calming treatment rooms. The Serenity also has a decadent Dining Room, as well as other innovative restaurants, each offering a huge range of beautifully cooked dishes. The new Tastes, Silk Road and The Sushi Bar offer a superb range of choice to please every tastebud. The Serenity also plays host to one of the most popular dining events at sea, the themed Afternoon Teas see most of the ship clamour for chocolate themed or Mozart themed specialities.
By night, the Crystal Serenity is full of life, with a variety of entertainment on offer including shows in the Galaxy Lounge, films in the Hollywood theatre, and drinks and conversation in the Connoisseur Club, activity and fun in the casino, amongst much else. A trip aboard the Crystal Serenity is full of luxury and life, where experiences are possible which could only be contemplated elsewhere.
Dining
Freshness and innovation are the hallmarks of the Crystal dining experience, with an exceptional collection of fine restaurants offering a cuisine and ambiance to suit your every mood.
The classic Crystal Dining Room or the intimate Vintage Room. The striking Sushi Bar or the delicious comfort of a meal served in-Suite/in-stateroom. From the extraordinary cuisine of celebrity chefs and legendary restaurateurs such as Nobu Matsuhisa and Piero Selvaggio to the inventive menus created by Crystal's own acclaimed culinary team, dining aboard Crystal Serenity and Crystal Symphony promises to delight and surprise even the most discriminating palate.

(Pictured above) The new Waterside Restaurant.
Perfect Choice Dining
You can now savour your travels and experience culinary excellence with Crystal's Perfect Choice Dining. Enjoy the ultimate dining experience with Crystal, the only luxury cruise line to offer the choices of Classic Main and Late Seating, or Open Dining by Reservation. Perfect Choice Dining is our newest way of inviting you to write your own personal definition of luxury.
By day, sunlight bounces off the ocean waters through expansive floor-to-ceiling windows to dance across tables set with Schott Zwiesel crystal, Villeroy & Boch china, Sambonet and Elkington silver, and Frette or Garnier linens. Evenings are equally as magical, with the sounds of our musical trio serenading the room under the twinkle of crystal chandeliers. Here you revel in the day's adventures with stories of discovery shared with newfound friends.
For those who want more flexibility in their evening dining options, guests may now enjoy the same extraordinary cuisine and excellent service of our Crystal Dining Room, but with the added convenience of dining by reservation at a time that works with your schedule—just like at our specialty restaurants, or a favourite restaurant back home. Open Dining by Reservation is offered in addition to Classic Main and Late seating's.
Lido Café
A bright and welcoming space offering exceptional panoramic sea views, this indoor/outdoor venue features elaborate breakfast buffets with exotic fruits, fresh-baked breads and pastries, as well as made-to-order regular and egg white omelettes, waffles, and pancakes. Luncheon buffets include custom-made pastas and salads, a delicious selection of soups, carved meats, fresh fish and sumptuous desserts, including sugar-free options.
Trident Bar & Grill
The ultimate poolside grill with a full bar serves deliciously light fare including made-to-order grills, wraps, melts and gourmet pizzas. On select evenings, the Trident Grill offers casual dinners at a relaxing setup around Neptune Pool with exciting selections served in a comfortable ambiance. Dress is casual and reservations are not required.
Trident Ice Cream Bar & Scoops
For sweets on demand, the Trident Ice Cream Bar (Crystal Symphony) and Scoops (Crystal Serenity) offer ice cream served in freshly made waffle cones, mouth-watering fudge brownies, cookies, ice cream sundaes, sherbets, and sugar-free ice cream and non-fat frozen yogurt with fresh berries and other toppings. During the course of a cruise, some 30 different ice creams (including low-carb), 24 homemade sherbets and approximately 20 non-fat yogurts are offered.
Tastes
On Crystal Serenity, a poolside open kitchen aft of the Trident Bar & Grill elevates lunchtime and casual evening dining to a sophisticated international meal. Homemade soups are prepared daily, accompanying such starters as Barbecued Duck Quesadilla, Stir-Fry Hokkien Noodles and Pizza di Margherita. Main courses include a Tower of Crab Cake and Sweet Corn Pancake or Grilled Black Angus Filet Steak with a choice of side orders such as Garlic Mashed Potatoes or Vegetables Slow-Roasted in Olive Oil. A selection of premium wines is available by the glass or by the bottle.
Prego
Charming and romantic, Prego brings the flavours of Italy to Crystal Symphony and Crystal Serenity. A seasonally changing Valentino at Prego menu features signature dishes such as Scaloppine Di Vitello Servite Con Capelli D'angelo and Linguine Con Aragosta E Zucchini, along with wines that are served at Piero Selvaggio's revered Los Angeles and Las Vegas restaurants, Valentino. Valentino is considered by many to be among the finest Italian restaurants in the country.
Silk Road & The Sushi Bar
The eclectic-and delectable-cuisine of world-renowned master chef Nobuyuki "Nobu" Matsuhisa is prepared by Nobu-trained chefs at Silk Road and The Sushi Bar. Regarded for his innovative approach to sushi, Nobu blends classically styled Japanese foods with distinct Peruvian and European influences. While The Sushi Bar offers an assortment of Nobu's inventive sushi and sashimi, including Salmon Tartar with Sevruga Caviar, Tiradito Nobu-style and Yellowtail Sashimi with Jalapeño, Silk Road presents his celebrated dishes such as Lobster with Truffle-Yuzu Sauce, Grilled Wagyu Beef Rib-Eye with Wasabi Pepper Sauce, and his signature dessert, a Bento Box filled with Chocolate Soufflé Cake with Shiso Syrup and Sesame Ice Cream. The famed chef enjoys a long history with Crystal and unveiled his own line of fine china during Crystal Serenity's inaugural season.

(Pictured above) The new Silk Kitchen & Bar.
The Vintage Room
Inspired by the rich tradition of wine makers to gather and showcase their most treasured vintages, dinners served in the elegant Vintage Room aboard both Crystal Serenity and Crystal Symphony are the ultimate experience for wine enthusiasts.
Working in tandem with our expert sommeliers, the culinary team creates menus to showcase the unique attributes of each vintage, with exceptional selections from famed wine-making regions such as Bordeaux and Napa Valley. These "Wine Makers Dinners" are savoured by connoisseurs and novices alike, eager to discover appellations not easily accessible in stores and restaurants, from a first-growth Bordeaux to a classic Spanish Vega Sicilia.
The Bistro
In the heart of each ship, this popular European-inspired café is buzzing with activity all day. It's the perfect spot to enjoy a freshly baked morning croissant with espresso before venturing out for your shore side adventures. Later in the day, relax with an exotic coffee drink or premium wines by the glass as you nibble on delectable pâtés, international cheeses, and freshly baked desserts. Distinctive to Crystal, The Bistro's exclusive porcelain is created by celebrated artist Guy Buffet.
Afternoon Tea
As sunlight floods the welcoming, airy space of Palm Court, what could be more civilized-and truly indulgent-than Afternoon Tea? Revel in the luscious Viennese flavours and elegant ambiance of our Mozart Tea, as staff dressed in period costumes of velvet, brocade and delicate lace cater to your every whim. Perhaps you'll prefer the white-tie-and-tails tradition of our English Colonial Tea, or the charming southern hospitality of our popular American Tea.
In-Suite/In-room Dining
From breakfast in bed to dinner on your veranda, Crystal's complimentary 24-hour in-stateroom dining is a true indulgence. At sea or in port, you may enjoy breakfast, lunch or dinner in the sumptuous comfort of your own room, served with the same precision and attention to detail so graciously displayed in every restaurant. During lunch and dinner hours, you are welcome to order the same selections offered in the Crystal Dining Room, served course by course, if you so desire. And if you're travelling in a Penthouse, you may also enjoy the additional privilege of ordering from our specialty restaurants during dinner hours.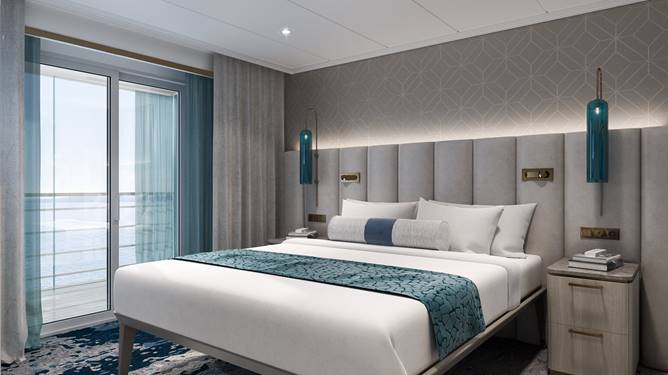 (Pictured above) A new Penthouse Suite.
Enrichment
Travel is about discovering the world, as well as yourself.
A hallmark of Crystal's award-winning reputation is our engaging onboard enrichment program, inviting you to leave the daily routines of life behind and open your mind to new possibilities. Discover a new language or try your hand at learning the piano. Attend insightful lectures by noted authors and world leaders, or be entertained by top-name stars of screen and stage. Regardless of your interests, the choices are yours and the options are endless.
Creative Learning Institute®
Perhaps you've dreamed of playing the piano, imagined yourself speaking a second language or fancied yourself a wine connoisseur. Whatever your secret passion, our innovative Creative Learning Institute invites you to live out your dreams with complimentary progressive courses offered by experts who share our commitment to enrich mind, body and spirit. We've partnered with only the best - names like Yamaha, Berlitz, Tai Chi Cultural Centre, Cleveland Clinic and the Society of Wine Educators, among others - so that you can discover your personal best.
Berlitz
The power of knowing even the most fundamental phrases and key words of a second language brings with it a broader sense of understanding, familiarity and comfort when exploring a new destination and Berlitz is the most recognized name in foreign language instruction. Spanish is offered on most cruises, with many itineraries featuring lessons in the language pertaining to the region visited - Italian while cruising the Amalfi Coast, Portuguese during a South American journey or French along the Riviera. Depending on the sailing region, other languages may include Chinese (Cantonese/Mandarin), French, German, Hebrew, Japanese, Norwegian and Russian.
Yamaha
From Pachelbel's Canon to Billy Joel's Piano Man, Crystal's Passport to Music program is an experiential and interactive course of study that allows you to learn the piano keyboard from a certified Yamaha music teacher. During the course of your cruise, you will learn nearly a dozen songs and gain an appreciation for music reading, notation and theory. The Passport to Music curriculum embraces the positive dynamics and wellness benefits of learning music in a group environment with ensemble instruction and fun activities.
Wine Tasting
The Society of Wine Educators is on board every voyage to provide wine tasting instruction.
Art Instruction
A large part of any travel experience is collecting artifacts, both elaborate and simple, that truly reflect your impression or memory of a destination. Crystal's Masterpiece Art Program allows you to create your own art, unique to your individual experience and personal style.
Crystal Visions
Stars of the stage and screen, masters of comedy, decorated Olympians, noted diplomats and ambassadors, celebrated authors, and renowned scientists highlight Crystal's award-winning enrichment lecture and seminar series.
Computer University@Sea
Imagine returning home with a personalized movie of your trek through Machu Picchu, a digital photo documentary of your exploration of the pyramids at Giza, or even a daily blog on the ever-changing scenery of the world just beyond your private balcony.
Library
Our well-stocked Library contains over 2,000 books on subjects ranging from classics to popular biographies, history to contemporary mysteries. There is also an entertaining selection of over 1,000 DVD movie titles and board games which may be borrowed without charge for your enjoyment during the cruise.
Crystal Spa
Experience the sublime and the sensuous in the Crystal Spa, the only Feng Shui-inspired spa at sea. As a Readers' Choice Award winner by Spa Finder and Condé Nast Traveler, the Crystal Spa consistently ranks among the world's most renowned resort and destination spas.
Entertainment
Uniting West End and Broadway, Hollywood and Vegas, our uniquely diverse entertainment offerings are consistently regarded as the very best.
In virtually every industry poll, Crystal Cruises ranks number one for our exceptional entertainment. With the most diverse activity and entertainment programs afloat, even the most discerning theatre-goers, concert-lovers and dance aficionados will appreciate the musical styles that range from nostalgic and classical to popular and contemporary.
Bars & Lounges
Avenue Saloon
Crystal's signature cocktail and piano bar is known for its intimate "clubby" atmosphere on both Crystal Serenity and Crystal Symphony.
Connoisseur Club
With an impressive selection ranging from Monte Cristo to Davidoff, this refined club-like cigar lounge is ideal for after-dinner drinks and conversation.
Luxe
From its polished aluminium Philippe Starck bar stools to the glass Bisazza mosaics, Crystal Symphony's modern nightclub is a sophisticated spot for drinks, dancing and conversation. Adjacent to the Crystal Casino, a dazzling lighting system flashes electric colours off shimmery finishes and stunning shades of black, silver and white.
Pulse
Located near the Avenue Saloon and Connoisseur Club aboard Crystal Serenity, this high-energy dance club plays all the latest hits with a mix of long-time favourites.
Stardust
This welcoming and comfortable lounge on Crystal Serenity is the perfect place for a pre-dinner dance and aperitif, and after dinner dancing as well. Throughout your cruise, here you will also enjoy intimate performances, recitals and special lectures.
Crystal Cove
Located just off the two-story Crystal Plaza in the very heart of both ships, the Crystal Cove piano bar is a perfect spot to enjoy an aperitif or specialty drink any time of day.
Palm Court
With panoramic sea vistas enjoyed through vast floor-to-ceiling window walls, this delightfully airy forward lounge hosts Afternoon Tea daily, evening dancing and entertainment, classical music concerts and special parties.

(Pictured above) The new Palm Court.
Galaxy Lounge (showroom)
The main showroom for Crystal's award-winning Broadway-style production shows and headline entertainers features exceptionally comfortable seating and a hydraulic-rising stage for optimum viewing from anywhere in the room. In addition to the sophisticated staging, the acclaimed shows each feature elaborate costumes and sets created by renowned designers with decades of theatrical experience.
Hollywood Theatre
Enjoy a selection of popular recent-release and classic films in the ultra-comfy confines of our shipboard theatres featuring Dolby sound and multi-lingual translation systems. Devices for the hearing impaired are also provided.
Crystal Casino
Glittering and stylish with fabulous chandeliers and an air of energized excitement, the Crystal Casino offers thrilling games of chance featuring Blackjack, Craps, Roulette, 3 Card Poker, Ultimate Texas Hold'em and Mini-Baccarat (on request), as well as slot and video poker machines.
Shopping
Cultured and refined, sleek and sexy. The boutiques along the Avenue of the Stars shopping promenade indulge your passion to shop.
Cultured and refined, sleek and sexy. The boutiques and shops along the Avenue of the Stars shopping promenade feature selections from Hermès, Chanel, St. John and others, brands that find a familiar home in a very sophisticated yet understated environment. Facets features a private space for guests to consider high-end jewellery purchases, and Apropos will continue to offer the line's popular logo items and resort wear.