NEW Queen Elizabeth Refit Announced for November 2018!
The luxurious Queen Elizabeth will be receiving a refurbishment in November 2018. The ship will dock in Brest, France for 16 days from the 14th - 30th November for the refit to take place.
The staterooms and suites will be renovated to match the high standard of Queen Victoria and Queen Mary 2.
There will be a range of redesigns on board Queen Elizabeth, including a transformation of The Royal Arcade which will change to a more contemporary, immersive retail experience. The spa and beauty salon will also be refurbished in conjunction with Cunard's new wellness and beauty proposition.
The outside public deck areas will also receive a makeover as new furniture will be added along with an afternoon sun deck with an additional shaded area. The Royal Court Theatre will have a complete technical overhaul which includes upgrades to the audio and visual control equipment.
Elegance and Sophistication
Queen Elizabeth, the newest Cunarder, joined the fleet in October 2010. She relives, in modern glamour, the high society events of the 1930s and 1940s. Grace ornate rooms whose rich décor recalls the heritage of the first Cunarder to bear her name.
From the moment you step aboard the beautiful Queen Elizabeth, the extent of her luxury and history can be seen; guests enter into the soaring three tier Grand Lobby, filled with artworks and with a magnificent centrepiece staircase.
The facilities on board offer the same familiar luxury seen across the Cunard fleet. The Queen Elizabeth features the Cunard Royal Spa, offering the ultimate in relaxation and rejuvenation to those wishing to be pampered. The more active guests can take on a range of day classes, including a course of wine tasting, or a spell in the Fitness Centre.
The Queen Elizabeth has something to offer all culinary tastes, with imaginative menus at each of the well served restaurants. The entertainment on offer is wide-ranging: after dark the highlight is surely the splendid Royal Court Theatre with 830 seats including private boxes, a venue rivalling any on shore. The Queen's room also comes alive at night, with guests able to dance away time under the shining chandeliers.
Cunard courts solo travellers with creation of Single Staterooms
A multi-million pound refit that took place aboard Queen Elizabeth has created nine new single staterooms. Recognising the increasing popularity of solo travel, eight outside and one inside staterooms have been added to the ship.
Other innovations made possible by the refit include waiters with insulated coffee and tea pots henceforth serving passengers with hot drinks at all meals, following the refurbishment of the ship's informal Lido restaurant. The addition of recessed risers will improve the styling of this self service area as well as passenger flows within it.
More generally, carpets have been renewed and large flat-screen TVs - mostly 32" or above - have been installed in all passenger staterooms. Sun awnings have been erected on the open area near the Lido pool at the stern on deck 9 and on both sides of the Grills Upper Terrace area near the top of the ship to offer more shade out on deck. The creation of a dedicated studio enables the ship's photographers to offer high-end portraiture while the addition of touch screens in the photo gallery continues the development of a digital environment in which passengers can more easily find and select photos taken of them by the team.
Shopping in the Royal Arcade on deck 3 has been transformed: more Fine Jewellery and Watch shops have opened and the layout, lighting and overall shopping experience for passengers has been enhanced.
Intimate Luxury on a grand scale
Imagine a travel experience where, as you arrive into your sumptuous Queens Grill Suite with private balcony, your butler appears and assists with unpacking your case. Throughout your stay your concierge arranges memorable excursions with minimal fuss. Every evening, wherever you may venture, you are greeted personally in a dining venue which rates alongside the finest in any major city.
Should the mood take you,
a sumptuous spa, magnificent theatre and countless other entertainment possibilities are only ever moments away. Welcome to the award-winning Cunard Grills Experience. This is the way that royalty, heads of state and celebrities have travelled with Cunard for many decades and which continues to set the standard for refined elegance today.
"Travellers can expect a truly excellent and memorable experience" Queen Mary 2's Experience rated five-star by Douglas Ward, Berlitz Guides
The Queens Grill Experience
Queens Grill guests dine in this magnificent restaurant on Deck 11. This is the epitome of Cunard dining excellence, where sparkling crystal glints against understated creams and golds and the à la carte menu is perfectly accompanied by the attentive service and air of refinement.

(Pictured above) The Courtyard
The Princess Grill Experience
Up on Deck 11, the intimate single seating Princess Grill Restaurant captivates guests staying in Princess Grill Suites with flawlessly attentive service and the acclaimed pinnacle of our à la carte excellence. Menus wonderfully combine different flavours, textures and ingredients to surpass expectations evening after evening.
The Britannia Experience
Guests sailing in the comfort of our luxurious Britannia staterooms can make their dramatic evening entrance into this elegant two-tier dining room with a graceful descent of its grand staircase, gleaming beneath the eye-catching art deco chandelier. Choose from early or late dining and revel in the sumptuous menus and perfectly attentive service.
Guests staying in our AA category balcony accommodation dine in the Britannia Club Restaurant. The tempting menus are to be savoured at a time of your choice in this intimate venue under patterned glass ceilings flecked with gold and silver leaf.
Dining - The Luxury of Choice
Café Carinthia - Succumb to several varieties of speciality teas and rich aromatic coffees that can be found in this delightfully relaxing venue, not to mention the indulgent pastries that are on offer.
Lido Restaurant - Buffet dining is available throughout the day. By evening it transforms into one of our regional venues: Asado is a South American Grill; Jasmine serves up exquisite Asian cuisine; while Aztec tempts you with interpretations of Mexican classics.
Golden Lion Pub - The Golden Lion is an authentic British pub with a great selection of beer and cider. This complements a traditional pub lunch menu with favourites such as cottage pie and fish and chips to the standard you would expect.
The Verandah - The Verandah, her formal alternative dining venue is your invitation to savour contemporary French cuisine that uses ingredients sourced in France along with an ambience that recalls the legendary Verandah Grill aboard the original Queen Elizabeth.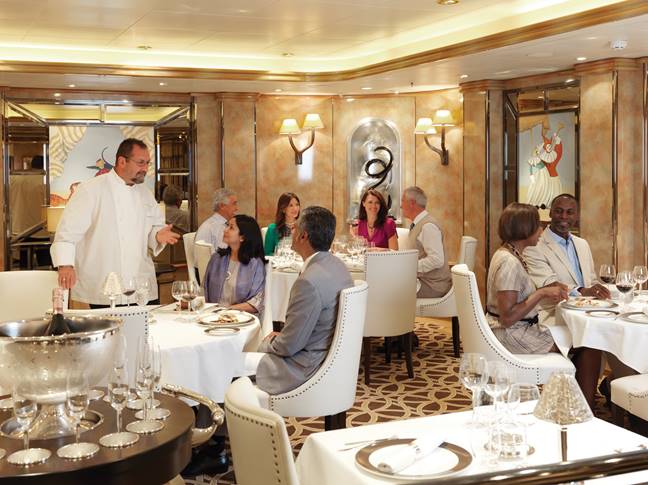 (Pictured above) The Verandah Restaurant
Café Carinthia - Luxurious drapes and chandeliers create a golden glow as you sip speciality teas and indulge in delicious pastries. In a central position on Deck 2 overlooking the Grand Lobby, this is the place to see and be seen.
Churchills - After dinner, settle into an armchair and savour our rich worldwide selection of fine cigars and cognacs. Also on offer is a wonderful choice of Single Malt Whiskys, Plantation Rums and Ports.
Commodore Club - Sink into the leather chairs of this club-like observation lounge with sweeping views over the bow and choose from a wide selection of delicious martinis, or something special from our Commodore Club Luxury Collection.
Golden Lion Pub - A Cunard favourite, choose from a wide selection of beer, cider and wine to complement the delicious gastro pub-style lunch menus in a comfortable, traditional setting.
Grills Lounge - Exclusive to Grill guests, this refined, comfortable and relaxed haven is perfect for a pre-dinner tipple with friends. Enjoy traditional afternoon tea or sample something special from our bespoke tea menu, recommended by our Tea Sommelier.
Midships Bar - The original Queen Elizabeth is celebrated in this warm and sophisticated venue perfect for pre-dinner drinks or a relaxing evening around the piano.
Queens Room - A magnificent Grand Ballroom whose artworks and murals reflect our cherished royal links. The setting for Royal Nights themed balls and white-gloved afternoon tea.
The Garden Lounge - A light and sociable room reminiscent of a resplendent conservatory. What a wonderfully atmospheric venue for the occasional 'Supper Clubs' that combine dining and dancing under the stars.
The Pavillion - After a few lengths, relax in one of the two whirlpools or sit back on a sun lounger with a refreshing drink.
The Yacht Club - Named after the lively QE2 venue, with its quirky nautical features, including the compass-shaped dance floor, this exciting addition to our gracious new Cunarder will be the scene for lively evening and sunny days.
Activities
Royal Court Theatre
Enjoy West-End calibre shows featuring singers or comedians - other times you might catch an abridged classical drama or a high-stepping musical. You can even be served champagne in your own private box - the very first of their kind at sea.
Afternoon Tea
Indulge in this truly British tradition. White-gloved waiters serve decadent fresh scones with cream, finger sandwiches and premium tea in the Queens Room.
Royal Arcade
The very traditional Royal Arcade presents famous brands and chic designer boutiques in uncrowded elegance on Deck 3.
Book Shop
Shop at our intimate bookshop and souvenir shop specialising in nautical literature, posters, postcards, collectibles and memorabilia.
Empire Casino & Gaming Lessons
This elegant casino will set your heart racing as you spin the roulette wheel, play the slots or try your hand at black jack. If you are not sure how to play then take part in our complimentary gaming lessons.
Garden Parties
Guests may enjoy a country club-style gathering beneath clear blue skies on the expansive aft deck, as the wake follows behind.
Images Photo Gallery
Browse the Images captured by our Photographers on your voyage in Images photo gallery. Whether a formal portrait session, at the Captain's Cocktail Party or at the gangway, these pictures of you and your fellow guests are all displayed here for you to view and purchase. The photography team also produce a voyage DVD to capture the memories of your time on board.
Enrich
Clarendon Fine Art
The Art Gallery features originals and lithographs by great 20th century masters such as Dali, Chagall, Erte and Picasso as well as renowned contemporary artists such as Alexandra Nechita, Howard Behrens, Martiros and Bill Mack among others. Our knowledgeable Art Director is available to provide information about the artists and their work.
Computer Centre
Located just off the Grand Lobby, keep up-to-date on email with friends back home. Charges apply for internet and email access.
Cunard Place
Take a nostalgic trip into our past as you admire this collection of artefacts and images from years and liners gone by.
Cunard Insights
Explore a number of historical and contemporary issues presented by a wide range of speakers including explorers, academics, former ambassadors and politicians, historians and scientists, novelists, biographers and award winning actors and film makers.
Book Club
The Cunard Book Club offers the opportunity for thought-provoking literary discussions among our guests each voyage. It is led by the Librarian who will provide a short history of the author and lead the discussion.
Cunard ConneXions
Cunard ConneXions offers a programme of activities all day every day from watercolour to computer lessons, wine tasting to ballroom dancing as well as bridge and board games.
Cunarders' Gallery
Gaze at the famous faces that have travelled on iconic Cunard ships, as fascinating black and white photographs tell their stories.
Revitalise
Promenade Deck
Start each day with a circuit or two of the Promenade Deck.
Games Deck
When the warm weather entices you on to the spacious Games Deck, you'll notice a definite English country garden ambience, with the gentle clunk of croquet balls, traditional bowls or paddle tennis in the welcome shade of its canopy.
Deck Sports
Fun in the sun with traditional Ocean Liner games from shuffleboard to quoits. With daily tournaments to hone your competitive edge, you'll be an expert before you know it!
Dance Classes
Learn the lindy hop, Jitterbug or traditional ballroom on board, ready to dance the night away to the sounds of a talented Big Band.
Swimming Pools
In warm weather, deck 9 is the place to be with a choice of two inviting swimming pools, The Pavilion and The Lido as well as four whirlpools.
Gymnasium
Stay trim in the fully equipped gymnasium at the luxurious Royal Spa on deck 9. All fitness centre facilities are complimentary.
Sports Courts
Sports enthusiasts can enjoy an energetic game of tennis on the court on deck 11.
Fitness Classes
Choose from a range of activities from relaxing Yoga and Pilates sessions to the more energetic Aerobics or Spinning classes.
Relax
Music
Sit back and enjoy the sounds of the harpist or the string quartet in the Grand Lobby or the orchestra in the Queens Room.
Cunard Classic Film Club
Distinguished Cunard guests from yesteryear again light up the silver screen during special viewings of all-time favourites.
Library
Choose from one of the most impressive collections at sea in serene, stately ambience. Browsing the 6,000 titles is a real pleasure where warm mahogany, the ornate spiral staircase and leather sofas invite quiet contemplation.
Royal Spa
Cunard's Royal Spa and Fitness Centre comprises breathtaking ocean views, relaxation areas, beautifully appointed treatment rooms, indulgent therapies and a panoramic glass encased Fitness Centre. Discover a sophisticated range of specialty treatments set amidst a backdrop of legendary service and tradition, unique spa treatments and our complete Fitness Centre programme all within our spacious spa.


Enrichment Programmes
Cunard Insights
With Cunard's Insights, you can explore a number of historical and contemporary issues presented by a wide range of speakers including explorers, academics, former ambassadors and politicians, historians and scientists, award wining novelists, biographers and acclaimed actors and film makers.
Book Club
The Cunard Book Club offers the opportunity for thought-provoking literary discussions among our guests each voyage. Book Club selections will change quarterly and are reflective of the interests of each ship's guests. Each Book Club meeting will be led by the ship's Librarian or one of the Hostesses, who will provide a short history of the author and lead the discussion.