NEW Steakhouse Menu to Debut at The Verandah Restaurant
There will be an exciting new menu at The Verandah Restaurant on Queen Mary 2. This menu is currently available until the 7th September 2018 for lunch and dinner.
The new menu is called "Steakhouse at The Verandah" and it will incorporate a specific range of cuisine focused on food from both sides of the Atlantic. Guests will have the opportunity to choose from Prime USDA grain finished New York Strip Steak, Maine lobster and Alaskan king crab. There will be British dishes such as Scotch grass fed dry aged beef and Salt Marsh lamb rack. Offerings from farther afield such as renowned Wagyu Beef from Australia also features on the menu.
There are delicious entrees included too, including London Cure gin & tonic salmon and tea smoked duck. Not only this, but there are also mouth-watering desserts such as bourbon baba with Florida orange marmalade and melting toffee and peanut butter brownie sundae.
In terms of drinks, there will be a new selection of cocktails and beers to choose from at The Verandah bar.
The new Steakhouse menu is priced at $39 per person for dinner, whilst the lunch menu is priced at $25 per person.
Steakhouse at The Verandah is available for a limited time only and it is recommended that you make an early reservation for it, these can be made from now until 7th September 2018. You can book dinner reservations online by accessing the voyage personaliser, and you can book it on board the ship.
The most iconic cruise liner in the world
The Queen Mary 2 is quite simply the grandest and most luxurious cruise liner ever built. Since her naming in 2004 by HM Queen Elizabeth II, the Queen Mary 2 has carried thousands of guests in the lap of luxury on voyages duplicating the glamour of the early days of ocean travel, updated with the best technologies of the modern era.
The Queen Mary 2 offers the same exquisite experiences, whether you decide to cruise on a traditional transatlantic voyage, opt for something different with a northern Europe cruise, or take the chance to sail around the world, you will experience the true opulence normally offered only to royalty.
Every traveller will find it impossible not to be overawed at the sheer scale of the beautiful Queen Mary 2. At 1,132 feet long, she has 14 impressive and sweeping decks, huge elegant public spaces and accommodation for over 2,500 guests. And even on a ship of such magnificent size, not one detail is missed.
The extent of the luxury and technology aboard the Queen Mary 2 is almost unimaginable, from the indulgent and spacious bedrooms, to the sumptuous food served under the White Star Service banner, your every desire is satisfied. The facilities and public spaces are unbeatable worldwide, on entrance the Grand Lobby is simply breathtaking, the traditional ballroom onboard occupies the width of the ship, and guests can also experience the world's only planetarium at sea.
Should you feel you must fill your extra time with activities, there are classes, lectures, and shows to accommodate all tastes; from wine tasting sessions to virtual reality golf. The world renowned Canyon Spa Club on board boasts facilities to rival any on shore, to completely refresh you ready for a day or evening ahead. By night, the Queen Mary 2 hosts some of the most glittering black tie soirees in the world, as well as playing host to an exhilarating casino and cabaret evenings.
QUEEN MARY 2 - REMASTERED
Queen Mary 2's Remastered interiors have taken years to plan and design. Cunard have worked with world-class designers to create lounges, restaurants, bars, staterooms and suites that are at once contemporary and reflective of Cunard's illustrious past. We're delighted to share some of these with you.
Queen Mary 2's interiors have been completely remastered from big changes, like the transformed Kings Court and the beautiful Grand Lobby, to smaller details, such as the new furnishings in the Grills Suites.
NEW - Carinthia Lounge
The public spaces in the ship are now looking even more luxurious and contemporary. A prime example of this is the Carinthia Lounge; a tranquil retreat by day, it provides the perfect place to relax and catch up with friends, or a good book, as well as enjoy light breakfast and lunch dishes along with premium teas and coffee, handmade patisseries and a special Champagne Afternoon Tea experience. When the sun sets, the atmosphere evolves into an inviting evening spot where carefully selected wines are paired with tasting plates, and relaxed entertainment. I loved the design of the Carinthia Lounge as it boasts a fresh colour scheme comprising of powder blue, cream and gold, accompanied with vertical metal Art-Deco inspired screens and a large Port wall.

(Pictured above) Carinthia Lounge
Kings Court
Enhancements are planned to both the service and culinary offer in Kings Court with the transformed venue featuring new menus, the convenience of pre-set tables and waiter-served drinks.
Cunard chefs will take centre stage in the reimagined Kings Court as they showcase the remastered menus and the fresh, high quality ingredients at live cooking stations. Kings Court will offer much-desired informal dining options throughout the day; from enticing hot and cold buffet options to light snacks, afternoon treats and alternative evening dining cuisines on a rotating basis such as Indian, Italian, Pan Asian and Mexican as well as our brand new American BBQ concept called Smokehouse.
Kings Court Buffet Restaurant Example Dishes: Over 80 new lunch dishes and 50 new dinner dishes will be launched in our Kings Court buffet restaurant showcasing a variety of seafood and meat joints from King Prawns, Hot Smoked Salmon and Crab to steamships of Beef and Suckling Pig.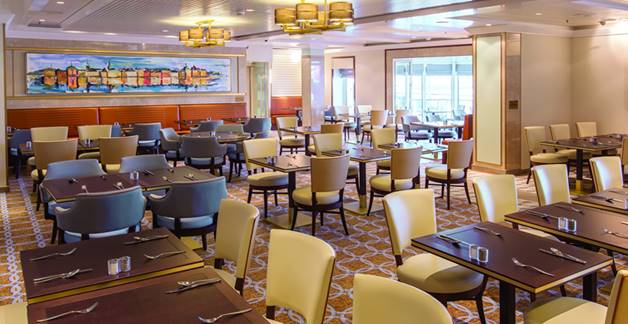 (Pictured above) Kings Court
NEW - The Verandah Restaurant (Speciality Dining)
Exactly 80 years after the first Verandah Grill went to sea on Queen Mary in May 1936, Cunard's has introduced a new signature restaurant titled the Verandah Restaurant.
A celebration of fine, contemporary French cuisine with seasonal influences and specially selected ingredients, the menus will evoke the flavours of great regional cooking from southern France.
To bring the fullest flavours and greatest interest to these new dishes, our executive chef team have thrown their net a little wider when it comes to sourcing the ingredients. Alongside exceptional French produce such as Gascon Black Pig, Chalosse Duck and Bayonne Ham sit dishes that proudly showcase Highland Venison, Galician Beef and Amalfi Coast Lemons.
The combination of contemporary French cuisine, expertly sourced produce and exemplary White Star Service will create an extra special and memorable experience.
The Verandah will serve a fixed price Lunch ($20pp) and Dinner menu ($35pp). The new restaurant will launch on QM2 in June, with the menu rolling out to The Verandah on Queen Elizabeth and Queen Victoria in the Autumn.
The refit has introduced a new chapter for the Cunard Line, one that conveys innovation and investment. It includes a new appearance for the Grill Suites and restaurants for their suite-guests. The new and improved look showcases the finest accommodation and dining as the best of the best and the epitome of luxury on a grand scale.

(Pictured above) The Verandah Restaurant
Grill Suites & Restaurants
The suites for Queens Grill and Princess Grill have been completely redesigned and clearer differentiation has been created between them. The Grill Suites offer an enhanced level of luxury, comfort and quality reflective of today's guest expectations.
In order to maximise space in the suites, the bedroom and living spaces have been reconfigured, allowing for an entirely new look with contemporary craftsmanship and subtle references to Cunard's unrivalled heritage.
The change to the Grill Restaurants on Queen Mary 2 has seen both the Princess and Queens Grill Restaurants being transformed to offer more sought after tables for two, increased space between the tables, additional loose tables to offer more flexibility and elegant dining rooms that will complement the refreshed menus and excellent White Star Service.
There has been a clearer differentiation between the Queens Grill and Princess Grill restaurants through design, menu offering, colour scheme and furnishings.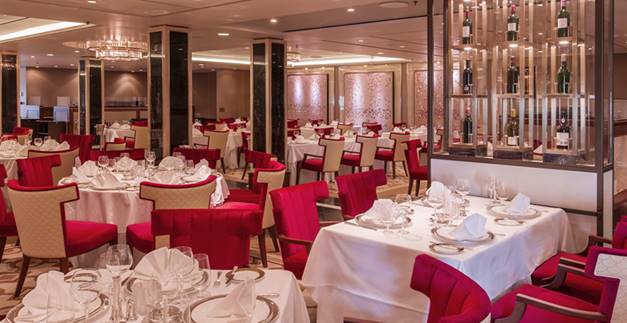 (Pictured above) The Queens Grill Restaurant
NEW Britannia Club Balcony & Single Staterooms
During the significant 25-day refurbishment of Queen Mary 2, the ship received 30 new Britannia Club Balcony staterooms and 15 Britannia Single staterooms. Additionally, there was also a comprehensive refurbishment of all pre-existing Britannia Club Balcony staterooms.
The enhancements to Queen Mary 2's staterooms offer passengers more options and a more elegant, contemporary experience. They now feature fresher design schemes boasting soft colour tones to further enhance how spacious the staterooms are. In contrast with the soft tones, there are elements of rich, imperial blue and antiqued gold highlights to honour Queen Mary 2's art deco heritage.
Cunard have also added 30 brand-new Britannia Club Balcony Staterooms which are located on Deck 13. These impressive staterooms are very well-appointed all with prime locations and private balconies. Not only this, they give passengers the opportunity to dine when they choose in their dedicated Britannia Club Restaurant that features a more intimate surrounding.
In addition, Cunard have added 15 Britannia Single Staterooms to Queen Mary 2. Out of the 15 staterooms, there are nine installed on Deck 2 and six larger Single staterooms on Deck 3L.
The new Single staterooms on the port side of Deck 2 benefit from increased ceiling height and an illuminated coffered ceiling, while those on port side Deck 3L feature two unique circular windows with bench seat cushions and a central dressing console table.

(Pictured above) A Britannia Club Balcony Stateroom
The Britannia Experience
Make a grand descent down the sweeping staircase of the two-deck-high Britannia Restaurant and Queen Mary 2's main dining room, which lavishly recalls the grand dining salons of ocean travel's golden age. Here, sublime culinary experiences unfold as our talented chefs imaginatively interpret delicate regional flavours and mouth-watering international dishes.
Guests staying in the Britannia Club Balcony category may take their reserved table when they wish in this single seating club-like private salon. This intimate dining room offers special à la carte selections in addition to the succulent Britannia Restaurant menu.
Intimate Luxury on a grand scale
Imagine a travel experience where, as you arrive into your sumptuous Queens Grill Suite with private balcony, your butler appears and assists with unpacking your case. Throughout your stay your concierge arranges memorable excursions with minimal fuss. Every evening, wherever you may venture, you are greeted personally in a dining venue which rates alongside the finest in any major city.
Should the mood take you, a sumptuous spa, magnificent theatre and countless other entertainment possibilities are only ever moments away. Welcome to the award-winning Cunard Grills Experience. This is the way that royalty, heads of state and celebrities have travelled with Cunard for many decades and which continues to set the standard for refined elegance today.
"Travellers can expect a truly excellent and memorable experience" Queen Mary 2's Experience rated five-star by Douglas Ward, Berlitz Guides.
The Queens Grill Experience
Queen Mary 2's most luxurious suites command their own reserved table in the elegant, single-seating Queens Grill restaurant. When it comes to exclusive luxury touches, the à la carte menu sparkles with exquisite creations, though feel free to make any culinary request you wish. This is, after all, the domain of the truly discerning ocean voyager.
The Princess Grill Experience
If you're staying in one of our luxurious Princess Suites, then savour the sublime creations of the Princess Grill Restaurant. Crisply attired waiters greet you warmly and present flawless culinary offerings from the award-winning à la carte menu. In every respect, this is an experience fully deserving of rich acclaim.

(Pictured above) Q2 Duplex Suite Lounge Area
Extra Dining Venues - The Luxury of Choice
Boardwalk Café
The Boardwalk Café is near the sun deck and provides the opportunity to enjoy a snack in the sunshine and open air. Only a short distance from the shuffleboard area, the café provides a refreshing break from your sporting and sunbathing endeavours!
Golden Lion
Drop in for lunch and enjoy traditional pub favourites such as fish and chips, a tasty ploughmans or shepherd's pie. A perfect selection is found in the authentic, pub style menus at a standard you would expect from Cunard Line.
Queens Room
Sample Afternoon Tea of traditional scones, cakes and delicate sandwiches served by white-gloved waiters whilst appreciating the excellent sea views.
Bars & Lounges
Chart Room
Order your favourite cocktail from the Chart Room's fabulous drinks menu while gentle classical music or jazz provides the background to your pre-dinner conversations, with maritime displays and nautically themed décor.
Churchill's
An extensive selection of fine cigars and a wonderful selection of rare Cognacs, Single Malt Scotch Whisky, Plantation Rums and vintage Calvados all serve to enhance the air of refinement amongst the sophisticated dark woods and soft leather chairs in Churchill's.
Commodore Club
Majestically overlooking the bow of Queen Mary 2 and providing glorious panoramic views as you sail towards the horizon. An extensive selection of Martinis are available and you may even be tempted to try our Martini Mixology or Whisky Tasting classes.
G32
Dance the night away to the sounds of our resident party band and DJ in our fabulous dual-level nightclub. Enjoy popular themed nights from the Sixties, Seventies and Eighties such as Saturday Night Fever and Shake Rattle and Roll.
Grills Lounge
The intimate Grills lounge is for the exclusive enjoyment of Grill Suite guests. Discover new teas with our Tea Sommelier or enjoy traditional afternoon tea served by white-gloved waiters, or later in the day, a pre-dinner drink with friends and fellow guests.
Sir Samuel's
In the morning enjoy a delicious breakfast selection of Danish pastries and muffins. Lunchtime selections include a range of freshly baked quiches and sandwiches. The mid-afternoon menu offers cakes such as deep dish cheesecake and Alsace Apple Tart, whilst evening brings an opportunity to enjoy your favourite wine, served with an assortment of cheese.
Veuve Cliquot Champagne Bar
Share conversations and sip champagne from beautiful Waterford crystal flutes. Guests may choose from among seven different Veuve Clicquot champagnes, served by the bottle or the glass.
Activities
Afternoon Tea
Indulge in this truly British tradition. White-gloved waiters serve decadent fresh scones with cream, finger sandwiches and premium tea in the Queens Room.
Mayfair Shops
Enjoy extraordinary shopping from top boutiques and brands such as Harrods and H.Stern, in addition to exquisite jewellery, high fashion and further voyage souvenirs.
Book Shop
Shop at our beautiful bookshop and souvenir shop, specialising in nautical literature, posters, postcards, collectibles, and memorabilia. Many voyages feature book signings by renowned authors and lecturers on board.
Empire Casino & Gaming Lessons
Step into the Monte Carlo-inspired Empire Casino that offers a full variety of opportunities to tempt Lady Luck. Gaming Tables, slot machines and even video poker. Not sure how to play? Then take part in our complimentary gaming lessons.
Royal Court Theatre
Cast your eye over the Martini menu before you take your seat for a thrilling music and dance extravaganza in the magnificent Royal Court Theatre. The Royal Court Theatre also plays host to a variety of high profile guest performers - from comedy acts and variety artistes to opera singers and world-class musicians.
Images Photo Gallery
Browse the Images captured by our Photographers on your voyage in Images photo gallery. Whether a formal portrait session, at the Captain's Cocktail Party or at the gangway, these pictures of you and your fellow guests are all displayed here for you to view and purchase. The photography team also produce a voyage DVD to capture the memories of your time on board.
Computer Centre
Self service computers are available for guest use so you're sure to stay connected during your voyage. WiFi hotspots are also available in public rooms and areas throughout the ship. Charges apply for internet and email access.
Clarendon Fine Art
The Art Gallery features originals and lithographs by great 20th century masters such as Dali, Chagall, Erte and Picasso as well as renowned contemporary artists such as Alexandra Nechita, Howard Behrens, Martiros and Bill Mack among others. Our knowledgeable Art Director is available to provide information about the artists and their work during regular gallery hours.
RADA Acting Workshops
The RADA actors offer guests the chance to share some of the training they received during their 3 years at this famous drama school. Each workshop lasts 45 minutes, and is creative, informative - and fun! Workshops include Finding Your Voice, Filling the Space and Speaking the Speech.
Cunard Insights
Explore a number of historical and contemporary issues presented by a wide range of speakers including explorers, academics, former ambassadors and politicians, historians and scientists, novelists, biographers and award winning actors and film makers.
Book Club
The Cunard Book Club offers the opportunity for thought-provoking literary discussions among our guests each voyage. It is led by the Librarian who will provide a short history of the author and lead the discussion.
Cunard ConneXions
Cunard ConneXions offers a programme of activities all day every day from watercolour to computer lessons, wine tasting to ballroom dancing as well as bridge and board games.
Maritime Quest
Recall ocean travel's golden heyday at this unique exhibition located throughout the ship's corridors and stairwells. Unveil Cunard Line's proud history from Samuel Cunard's first venture across the Atlantic in 1840 to the building of Queen Mary 2. Wander through the years and photographs of the aristocrats, nobility and celebrities who have graced the decks of Cunard's ocean liners during our magnificent past.
Illuminations
Take a virtual ride into outer space, view the stars and other visual spectacles or take a course on celestial navigation in Illuminations, Queen Mary 2's full-scale Planetarium and the only Planetarium at sea! Each day sees a new show to tantalise your imagination. It also functions as a grand art deco cinema, a 500-seat lecture hall and even a broadcasting studio.
Canyon Ranch Spa
Cunard is proud to offer the most distinctive spa experience at sea.
Music
Sit back and enjoy the sounds of the harpist or the string quartet in the Grand Lobby or the orchestra in the Queens Room.
Movies
Enjoy a first-run feature each afternoon and evening in Illuminations. You'll also find a selection of movies throughout the day on your stateroom television.
Library
The quality and range of literature available in this beautiful room magnifies the stunning views over the bow. Linger over more than 8,000 books, in the largest library at sea. Ask our Librarian to help you find your favourite authors, from Tolstoy to Jackie Collins.
Golf Simulators
For those with a passion for golf, our state-of-the art golf simulator with its 51 golf courses to choose from is a must!
Deck Sports
Master the traditional nautical games of shuffleboard and deck quoits. Challenge friends to a game or join in one of the tournaments advertised in the Daily Programme.
Swimming Pools
There are a total of five swimming pools on board Queen Mary 2, including the Terrace Pool on Deck 8, The Minnows Pool especially for children on Deck 9, the Sun Deck Splash Pool on the top of the ship and our most popular Pavilion Pool and bar on Deck 12 which features a retractable dome for any weather!
Gymnasium
The Fitness Centre has views out forward to the covered promenade deck. Open from 6am, feel free to run the treadmill, take to the bikes or try the step machines all before a hearty and well earned breakfast. Choose from a range of activities from relaxing Yoga and Pilates sessions to more energetic 'Funk Aerobics' and Spinning classes.
Promenade Deck
Wake yourself up with a brisk walk or jog around our promenade deck. Three laps make a mile.
Sports Courts
Sports enthusiasts can enjoy the squash courts on deck 13.
Enrichment Programmes
Royal Academy of Dramatic Arts
Arguably the most famous acting school in the English-speaking world, London's Royal Academy of Dramatic Art (RADA) has a unique relationship with Cunard. The Academy was founded in 1904, and has trained countless memorable names of the stage and screen from Vivien Lee, Charles Laughton and John Gielgud to current leading actors such as Anthony Hopkins, Ralph Fiennes and the late Alan Rickman. The RADA graduate company presents specially-edited versions of renowned plays, and adaptations of great literary classics on Transatlantic Crossings, each lasting no more than one hour.
The Royal Astonomical Society
The Royal Astronomical Society (RAS), founded in 1820, encourages and promotes the study of astronomy, solar-system science, geophysics and closely related branches of science. Cunard is proud to present the Royal Astronomical Society speakers on board selected voyages, offering you the opportunity to learn about the constellations, meteorites, space travel and to participate in star gazing on deck (weather permitting).