Pinnacle means "high point"—and the debut of Koningsdam is a high point in Holland America Line history. Then again, in many ways, Koningsdam has been 141 years in the making. As heir, she'll carry forward all of the tradition, nautical heritage, and signature service and style for which Holland America Line is known—while raising the bar for 21st-century elegance.
Her name sets the tone. Its roots, like the ship itself, are a mix of something contemporary and something classic: "Koning," means king in Dutch—and is a salute to King Willem-Alexander, the Netherland's first king in more than 100 years. And "dam," because, after all … this is a Holland America Line ship, and the "dam" naming convention dates back to 1883.
The design cues for Koningsdam? Light-filled spaces. Fluid curves. A sophisticated interplay of high technology and elegance. With beautiful architectural elements inspired by music. All woven together in a forward-thinking design approach to create an interior that blends a fresh, contemporary styling in perfect harmony with Holland America Line's renowned classic elegance.
Tihany - a leader in creating luxurious and creative interiors - has approached Koningsdam with an eye toward creating public spaces that reflect the tradition and signature elegance for which Holland America Line is known, while elevating the design to strike a more modern balance of past, present and future.
At the heart of the ship, Koningsdam's central atrium is pure visual drama. Soaring three decks high, the space is graced by an airy stainless steel sculpture that evokes the feeling of a classical quartet, with strings, arches, and bows. And, like music itself, it changes as you move around it, so that no two perspectives are quite the same.
The atrium is capped by a ceiling that serves as a backdrop for subtly changing high-definition projections. Look up by day to see wispy cirrus clouds floating overhead or perhaps soothing colours of water and light. By evening, the atrium takes on dramatic lighting hues or reflects the clear constellations of the night sky.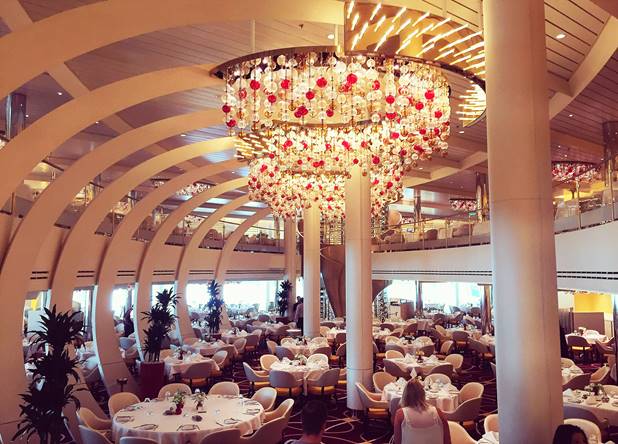 (Pictured above) The Dining Room
The main Dining Room aboard Koningsdam will span two floors and be framed by views of the sea. A bright interior will be inspired by a modern, global design and sets the stage for the exceptional culinary experience to come. Strong, curved architectural pillars will accentuate the soaring ceiling. Custom furnishings and modern glass lighting are being fabricated especially for the ship.
The centerpiece of the Dining Room is a curved copper sheath surrounding a two-story wine tower that showcases the great breadth of our cellars. From a boutique Walla Walla white wine to a rich red Bordeaux, our great vintages are elevated from the pages of the wine list and made visible, significant, celebrated—a testament to wine's central place in the enjoyment of food, friends, and life.