Our acclaimed Nautica has undergone a multimillion-dollar transformation to create a virtually new ship that is both sleek and elegantly charming. Her decks are resplendent in the finest teak, custom stone and tile work, and her lounges, suites and staterooms boast luxurious, neo-classical furnishings. Nautica offers every luxury you may expect on board one of our stylish ships. She features four unique, open-seating restaurants, a world-class fitness center and spa, eight lounges and bars, a casino and 342 lavish suites and luxurious staterooms, nearly 70% of which feature private verandas. With just 684 guests to pamper, our 400 professionally trained European staff ensure you will wait for nothing.
Finest Cuisine at Sea
The Grand Dining Room - Handsomely decorated in rich woods, designer tapestry fabrics and oversized armchairs, the expansive dining area exudes classic splendor. The Grand Dining Room's formally attired and classically trained wait staff graciously serve course after course of European-inspired cuisine or delectable alternatives such as healthy Canyon Ranch signature dishes. As variety is essential, menus change daily with a brilliant choice of at least ten appetizers, soups and salads and twelve entrées at dinner.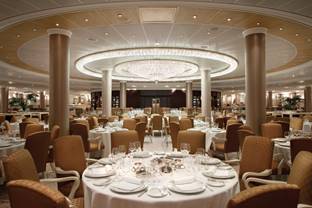 The Grand Dining Room (Left) & Polo Grill (Right)
Polo Grill - Polo Grill embodies all the elements of a classic steakhouse, expressing them with timeless reverence. Mindful of tradition, the decor features crisp, white linen tablecloths, dark wood furnishings and supple, high-back, burgundy leather chairs. Each course stands as the very definition of time-honored favorites, most notably the beef dishes, all of which are USDA Prime and dry-aged for 28 days to enhance tenderness and flavor. Succulent seafood dishes such as Grilled Swordfish and Whole Maine Lobster Gratinée are also classics in their own right. The Classic Caesar Salad, too, is prepared according to tradition, tableside and with gusto.
Toscana - In Italian, Toscana means Tuscan, and just as Tuscan cuisine evolved from rich family traditions, many of our recipes originated with the mothers and grandmothers of our own Italian culinary staff. Presented on elegant, custom-designed Versace china, masterfully prepared dishes exemplify the essence of Tuscany and celebrate Italy's culinary passion. Perhaps the evening begins with an appetizer of Octopus Carpaccio with Champagne Vinaigrette or the Artichoke and Parmesan Cheese Timbale with Black Truffle Sauce. Classic dishes from other regions of Northern Italy are featured as well, such as the Minestrone alla Genovese, Lasagne al Forno alla Bolognese and Osso Buco alla Milanese.
Terrace Cafe - Informal and carefree, the Terrace Café is wonderfully inviting any time of day--feel free to dine inside or alfresco at one of the shaded teak tables on the terrace. First thing in the morning, enjoy sumptuous breakfast selections. Come lunch, the expansive menu of international-inspired dishes changes entirely, beautifully complemented by flavorful roasted and rotisserie meats and the magic of the pizzeria's oven. Feel free to dine inside or alfresco at one of the shaded teak tables on the terrace. Evenings, the impeccably clad wait staff shines, and the cuisine takes on a more sophisticated flair. Lobster tails and lamb chops are prepared to order, and freshly made hand-cut sushi and sashimi await your selection. Tomorrow, an entirely different series of menus awaits the opportunity to delight you.
Waves Grill - Sometimes, the ultimate luxury is casual dining on all-American favorites, a style laid-back Waves Grill epitomizes. Located in a spacious, shaded area steps from the swimming pool, Waves Grill offers an extensive and mouthwatering luncheon menu. Watch the chefs grill gourmet burgers, tangy barbecue and succulent seafood to order in the open galley, accompanying them with side dishes like garden-fresh salads and crispy, hand-cut truffle fries dusted with grated aged parmesan. Then top it off with a decadent dessert such as a creamy homemade gelato, a made-to-order hot fudge sundae or a thick, hand-dipped milkshake.
Afternoon Tea - Few tea times are as anticipated and inspired as ours, a celebratory daily event that irresistibly draws guests to Horizons at four o'clock sharp. As a classical string quartet plays softly in the background, our staff glides through the room presenting bountiful four-tiered pastry carts filled with freshly made finger sandwiches, colorful petits fours, richly textured scones with clotted cream, and wonderfully sinful desserts.
Baristas - This delightful coffee bar offers java lovers complimentary illy espressos, cappuccinos and lattes prepared by our master baristas, as well as the delicious pastries, finger sandwiches and homemade biscotti that draw so many to Baristas throughout the day.
Room Service - After a day of enriching shore excursions ashore or various activities onboard, you may dine in the privacy of your suite or stateroom. An extensive Room Service menu is available around the clock. Enjoy breakfast, lunch or dinner on your private veranda, as you take in spectacular seascapes.
Entertainment & Activities
Experience the warm and convivial atmosphere unique to Oceania Cruises: elegance without pretense. Feel wonderfully at home as you meet fellow shipmates, explore the ship and prepare for the fascinating ports of call you will soon discover. Meet friends for cocktails at Martinis and share adventures you enjoyed ashore. Join an afternoon bridge game, or perhaps simply relax by yourself in one of the many private retreats reserved just for you.
The stimulating variety of entertainment options on board our ships continually ensures your interests are piqued. Enjoy an engaging guest lecture by a historian, naturalist or former ambassador eager to share insider knowledge. Enrich your mind in the tranquility of our English-style Library with over 2,000 books and periodicals ranging from destination-specific guide books to best-selling mysteries to classic literature. Relax at a musical performance, perhaps featuring a live pianist, a classical string quartet, a dynamic vocalist or a spectacular headliner. Later, try your luck at the elegant Monte Carlo-style casino or go dancing at Horizons.

The Main Pool (Left) & the Library (Right)
On the sparkling Pool Deck, take a refreshing dip in the large heated pool or relax in one of the two whirlpool spas. Plenty of comfortable chaises and luxurious day beds invite you to lounge poolside while you sip your favorite cocktail. For more active pursuits, head to the Sports Deck high atop the ship. As you take in the fantastic views, enjoy some friendly competition on the shuffleboard court or play nine holes of golf on the putting greens.
If you're an aficionado of the arts, you'll find our entertainment just as engrossing and personally satisfying. In the evenings, the ship is filled with music performed by, what some have called, the finest orchestra at sea. Attend a live classical concert under the stars, the notes gently wafting through the misty night. Marvel at the magicians, comedians and other headliners. Evenings aboard can be anything you desire. Chat with newfound friends over a cocktail in one of our nine lounges. Dance the night away in Horizons to the sounds of a marvelous musical group, or show your talent at karaoke. Entertainment has never been so enjoyable, enriching or varied.