Stunning Riviera was designed to be distinctive and special in so many ways. It is one of the most elegant and sophisticated ships to debut in the past 50 years. Designer touches are everywhere, from the magnificent Lalique Grand Staircase and stunning Owner's Suites furnished in Ralph Lauren Home, they are showcases of the finest residential design and furnishings. More than anything, Marina and Riviera personify the Oceania Cruises experience.
Comfortably mid-size, Riviera retains the same warmth and charm of their acclaimed consorts Regatta, Insignia and Nautica. While the country club casual ambiance and level of personalized service remain the same, they offer even more choice and some enticing new amenities. As the first ships designed for lovers of fine dining and travel experiences, Riviera and Marina offer guests a total of 10 dining venues, of which six are open-seating gourmet restaurants with no surcharge. La Reserve by Wine Spectator offers enlightening wine and food pairings. . The new Bon Appétit Culinary Center is the only hands-on cooking school at sea. Similarly, artists-in-residence teach fine arts in Artists Loft, a new enrichment center. For specialty coffees and snacks, there is Baristas Coffee Bar. Intimate lounges abound. Accommodations in every category are incredibly spacious, especially with regard to the lavish bathrooms.
Yet remarkably, with so many additions, the onboard ambiance and experience remains comfortably familiar. We have retained everything guests adore about our ships and raised the bar ever higher. We look forward to welcoming you aboard.
Finest Cuisine at Sea
The Grand Dining Room - Handsomely decorated in rich woods, designer tapestry fabrics and oversized armchairs, the expansive dining area exudes classic splendor. The Grand Dining Room's formally attired and classically trained wait staff graciously serve course after course of European-inspired cuisine or delectable alternatives such as healthy Canyon Ranch signature dishes. As variety is essential, menus change daily with a brilliant choice of at least ten appetizers, soups and salads and twelve entrées at dinner.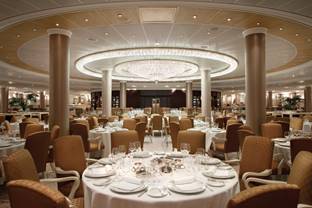 The Grand Dining Room (Left) & The Terrace Cafe (Right)
Polo Grill - Polo Grill embodies all the elements of a classic steakhouse, expressing them with timeless reverence. Mindful of tradition, the decor features crisp, white linen tablecloths, dark wood furnishings and supple, high-back, burgundy leather chairs. Each course stands as the very definition of time-honored favorites, most notably the beef dishes, all of which are USDA Prime and dry-aged for 28 days to enhance tenderness and flavor. Succulent seafood dishes such as Grilled Swordfish and Whole Maine Lobster Gratinée are also classics in their own right. The Classic Caesar Salad, too, is prepared according to tradition, tableside and with gusto.
Toscana - In Italian, Toscana means Tuscan, and just as Tuscan cuisine evolved from rich family traditions, many of our recipes originated with the mothers and grandmothers of our own Italian culinary staff. Presented on elegant, custom-designed Versace china, masterfully prepared dishes exemplify the essence of Tuscany and celebrate Italy's culinary passion. Perhaps the evening begins with an appetizer of Octopus Carpaccio with Champagne Vinaigrette or the Artichoke and Parmesan Cheese Timbale with Black Truffle Sauce. Classic dishes from other regions of Northern Italy are featured as well, such as the Minestrone alla Genovese, Lasagne al Forno alla Bolognese and Osso Buco alla Milanese.
Jacques - Exquisitely decorated with heirloom antiques, pickled wood furnishings and art from Jacques Pépin's personal collection, Jacques was modeled after a Parisian bistro. Comfortable and eclectic, the ambiance is pure French, as is the cosmopolitan yet wonderfully embraceable cuisine. Luscious aromas waft from the gleaming show rotisserie, where chicken, duck, pork, beef and veal roasts slowly turn. Each dish is a classic, ingeniously reinterpreted by Master Chef Pépin. This is Coq au Vin beyond the imagination. Rotisserie-roasted chicken falls off the bone, bursting with flavor. His Steak Frites pairs the succulence of prime beef with the crisp sweetness of pommes de terre. Jacques is absolutely magnifique!
Red Ginger - Red Ginger's chefs have created contemporary interpretations of Asian classics. The interior simply glows with ebony woods, a soothing waterfall wall and striking, modern Asian artworks. To complement the stunning decor, Red Ginger's chefs have created contemporary interpretations of Asian classics. Begin with a Salad of Spicy Roast Duck and Watermelon with Cashews, Mint and Thai Basil. Savor a Malaysian Beef Penaeng with Coconut Rice and Paratha Roti. Or try Thai Vegetable Curry with Sweet Potatoes, Aubergine, Mushrooms and Basil in Green Curry Sauce. In Red Ginger, the gustatory pleasures are as striking as the visual ones.
Terrace Cafe - Informal and carefree, the Terrace Café is wonderfully inviting any time of day--feel free to dine inside or alfresco at one of the shaded teak tables on the terrace. First thing in the morning, enjoy sumptuous breakfast selections. Come lunch, the expansive menu of international-inspired dishes changes entirely, beautifully complemented by flavorful roasted and rotisserie meats and the magic of the pizzeria's oven. Feel free to dine inside or alfresco at one of the shaded teak tables on the terrace. Evenings, the impeccably clad wait staff shines, and the cuisine takes on a more sophisticated flair. Lobster tails and lamb chops are prepared to order, and freshly made hand-cut sushi and sashimi await your selection. Tomorrow, an entirely different series of menus awaits the opportunity to delight you.
Waves Grill - Sometimes, the ultimate luxury is casual dining on all-American favorites, a style laid-back Waves Grill epitomizes. Located in a spacious, shaded area steps from the swimming pool, Waves Grill offers an extensive and mouthwatering luncheon menu. Watch the chefs grill gourmet burgers, tangy barbecue and succulent seafood to order in the open galley, accompanying them with side dishes like garden-fresh salads and crispy, hand-cut truffle fries dusted with grated aged parmesan. Then top it off with a decadent dessert such as a creamy homemade gelato, a made-to-order hot fudge sundae or a thick, hand-dipped milkshake.
Afternoon Tea - Few tea times are as anticipated and inspired as ours, a celebratory daily event that irresistibly draws guests to Horizons at four o'clock sharp. As a classical string quartet plays softly in the background, our staff glides through the room presenting bountiful four-tiered pastry carts filled with freshly made finger sandwiches, colorful petits fours, richly textured scones with clotted cream, and wonderfully sinful desserts.
Baristas - This delightful coffee bar offers java lovers complimentary illy espressos, cappuccinos and lattes prepared by our master baristas, as well as the delicious pastries, finger sandwiches and homemade biscotti that draw so many to Baristas throughout the day.
Privee - Host a private party for up to 10 privileged guests in our most exclusive onboard dining venue, Privée. The exquisite setting is adorned with Baroque millwork and a custom-built table designed by the famed Dakota Jackson, illuminated by a golden Venini chandelier. The cuisine is equally superb, as each guest may select any number of courses from Polo Grill, Toscana or a combination of both.
Entertainment & Activities
Experience the warm and convivial atmosphere unique to Oceania Cruises: elegance without pretense. Feel wonderfully at home as you mingle with shipmates, explore the ship and prepare for all of the exciting destinations you will soon discover. Meet another couple at a wine tasting at La Reserve and recount adventures enjoyed ashore. Join friends for a bridge game, or perhaps simply relax by yourself in the peaceful English-style library.
There are a wide range of activities to do on the pool/sports deck. With a large heated pool and three whirlpool spas, there is always room for a refreshing dip in the pool, poolside relaxation, or a soothing spa experience. Play a spot of paddle tennis or have a go on the golf putting green, shuffleboard, croquet/bocce or even a quick run around the fitness track.

The Main Pool (Left) & Paddle Tennis Court (Right)
The stimulating variety of entertainment options on board our ships continually ensures your interests are piqued. Enjoy an engaging guest lecture by a historian, naturalist or former ambassador eager to share behind-the-scenes knowledge. Relax at a musical performance, perhaps featuring a live pianist, a classical string quartet, a dynamic vocalist or a spectacular headliner. Later, try your luck at the elegant Monte Carlo-style casino or join jazz night at Martinis.
Our musical performances are enriching and, depending on the voyage, may include a live pianist, classical string quartet, dynamic vocalists and spectacular headliners.
Riviera's versatile and talented cast also performs the following diverse production shows:
World Beat
This musical voyage around the world will let you feel the percussive beats of Irish tap dancing to the rhythmic cadences of the New York City streets. You will be moved by the soulful drums of Africa and the dramatic Kodo rhythms of Asia. Experience this international journey as we bring to you…World Beat.
That's Entertainment
From the Golden Age of cinema to the glitz glamour of current pop culture, That's Entertainment is inspired by the talent and excitement of showbiz icons. From Sinatra and Monroe to Elvis and Madonna, join the Oceania Cruises Riviera Production Cast as they bring to life the hits of yesterday and today in…That's Entertainment.
The Look of Love
The Look of Love - The Music of Burt Bacharach tells the story about a group of friends who witnesses a marriage proposal and decides to take an impromptu trip to Las Vegas. Though the bachelor and bachelorette parties go their separate ways, they end up together at the San Jose Bar. The Look of Love explores the push and pull of love and relationships. You can't help but fall in love again as if it's the first time.
Lights, Camera, Music!
In this elegant tribute to the greatest moments of the Hollywood Movie Musical, see your favorite cinematic classics come to life from the romantic glamour of the 1940's to the high-kicking can-can of the Moulin Rouge! So curtain up…light the lights… as we proudly present… Lights, Camera, Music!