The indulgent Arcadia is modern and glamorous ship, completely child-free and full of luxury at every turn. She boasts gloriously spacious public areas, as well as stylishly decorated large staterooms for private relaxation.
From the moment you step aboard the Arcadia, you step into the chic and relaxed atmosphere, surrounded by British artworks at every corner and glass windows offering panoramic views across the port and ocean.
Exclusively for adults, Arcadia offers a relaxed pace, stylish surroundings and more than a hint of extravagance to P&O Cruises. Arcadia's signature features such as her exterior glass-fronted lifts and expansive art collection, featuring no less than 3,000 works of art, create a sophisticated air.
Take a stroll up to Sky Deck and, in addition to great views you'll find The Orchid Bar and Orchid Restaurant, a Select Dining venue which offers immaculately presented Asian fusion dishes; a treat for the senses. In fact, foodies will be in their element on this ship, Ocean Grill, is a fine dining restaurant with waiter service, inspired by none other than Marco Pierre White.
Arcadia has many a place to happily while away an hour or two; Caffè Vivo, The Piano Bar and The Rising Sun pub to name but a few. There are plenty of ways to keep active too, but the ultimate route to feeling great has to lie with a visit to Arcadia's wonderful spa which includes a large hydrotherapy pool and a thermal suite complete with fragrant aromatic showers. By evening, you'll find spellbinding shows in The Palladium theatre, a lively casino, Electra nightclub and The Globe, offering anything from comedy to live music.
Dining
Meridian Restaurant - Featuring a two-tiered layout and refined décor, every night will be an occasion in the Meridian Restaurant. Enjoy the special ambience and sociable atmosphere of a main dining room, with a five-course menu (six-course on Gala Nights).
By choosing Club Dining you're opting for the cruising tradition of set sitting times. The same table will be reserved for you and your table companions every night for first or second sitting, at 6.30pm or 8.30pm. You'll dine at the same time and table each night and enjoy the same company. It's the way many a friendship has been made on board. You can request your preferred sitting when you book a Select Price and we'll inform you of your table number and sitting with a card in your cabin when we welcome you on board.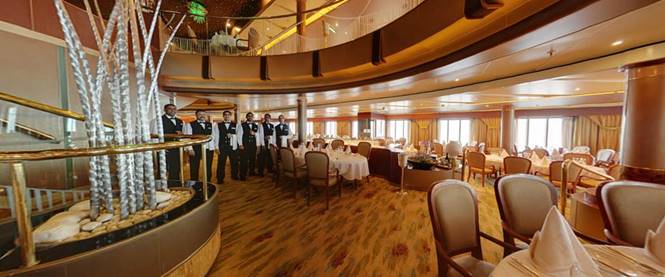 (Pictured above) The Meridian Restaurant
Freedom Dining allows you the flexibility to turn up at selected restaurants anytime you choose between 6pm and 9.30pm, with whom you like, and every effort will be made to accommodate you. Freedom Dining is included in your fare when you book a Select Price. Just opt for it when making your Select Price booking.
Sindhu - Atul's restaurant, Sindhu, will showcase an elegant fusion of Indian and British cuisine featuring sublime flavours.
Enjoy a menu inspired by Atul Kochhar. His Soft Shell Crab and Squid Salad in particular is sure to be a favourite. The restaurant is located at the top of Arcadia on Sky Deck, adjacent to the central lifts. Here you will be welcomed by panoramic views, an informal atmosphere and contemporary décor.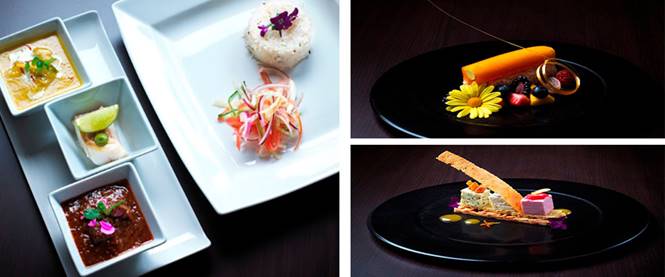 (Pictured above) A selection of dishes at Sindhu
Ocean Grill - In The Ocean Grill you can look forward to all kinds of culinary delights. From Baked Portobello Mushroom with Spinach Leaf and Pecan Salad to Salt Marsh Lamb Rack with Dauphinoise Potato, crushed Minted Peas and Romarin Scented Jus - the choice is yours. Of course, no self-respecting grill restaurant would be complete without succulent steaks - all our cuts come from Premium Grass-fed beef, dry-aged on the bone for a minimum period of 28 days.
The Belvedere - No matter what time of day it is, if you fancy a good meal you'll always get one on board Arcadia. The Belvedere food court offers informal dining around the clock. With a wide choice of menus from Oriental and Italian to bistro-style dishes and a delicatessen counter, this stylish and modern venue is the place to go for casual dining any time of the day or night. So if you've just returned to the ship after a shore excursion and have worked up a late afternoon appetite you can still enjoy a great meal.
Entertainment
P&O Cruises offer the very best in cruise entertainment. Evenings are the social highlight of the day when you are on board a P&O Cruises superliner. When the sun goes down your ship begins to come alive with the hum of conversation and music, and you can be sure you are in for a memorable night with our on board cruise ship entertainment.
The P&O fleet presents an exciting range of venues and cruise ship entertainment:
Cocktail bars, nightclubs, casinos and theatres; Live bands, dramatic musicals and deck parties; Cabarets singers, comedians and speciality acts; Classical recitals and concerts; Quizzes and panel games to play, with prizes to be won; Special theme evenings including tropical, 60's & 70's or Black and White Ball themes; Cinemas and games rooms.

(Pictured above) The Spinnaker Bar
Diverse and fun, each ship has its own distinctive signature venues and experiences. So chat into the small hours or hit the dance floor. The special ambience of evenings on board will ensure your nights will be sociable and filled with entertaining fun.
Theatres and Cinemas
In the theatres on a P&O Cruises superliner you will find some of the most lavish and spectacular shows at sea. There are compilations of West End and Broadway shows, as well as tributes to well known stars.
The on board cinemas show classic feature films and recent releases - many of which are shown months before they are released in the UK. You can easily imagine you are attending an indulgent premiere at one of London's top movie theatres!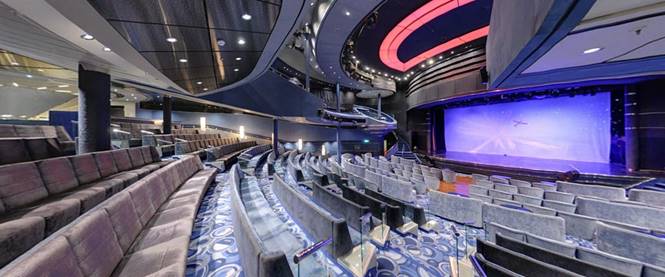 (Pictured above) The Palladium theatre
Casinos
Is Lady Luck smiling on you? Stop into our sumptuous casinos and try your luck. In P&O Cruises casinos you'll find the latest in the world of slot machines. There's also Three Card Poker, Texas Hold 'Em poker, Blackjack, Bingo and, of course, Roulette, one of the oldest and most popular games of chance.
If you haven't played before don't worry, you can join in the fun and informative gaming lessons. During these interactive sessions you can learn valuable tips and information to make your playing more enjoyable and possibly more profitable.
Nightclubs
If you are in the mood for dancing, head for one of the themed nightclubs. You'll find the atmosphere fun and lively, and you can dance to the music of DJs and live bands, playing everything from the 60's to the present day. These innovative entertainment venues feature state-of-the-art sound and lighting systems and dance floors - some with inlaid fibre-optic lights. And the bars are well stocked with your favourite refreshments.
Spa and Fitness
Opportunities for pure relaxation. The chance to rejuventate yourself. You can take advantage of both when you travel on a holiday with P&O Cruises. On board you will find some of the most luxurious spa facilities afloat offering all the latest treatments for men and women. Then there are saunas, steam rooms and hair salons. In fact, there's everything you need to be truly pampered.
If you want to get, or keep fit and healthy then the ocean-view gymnasiums, Personal trainers, sports courts, swimming pools and a comprehensive well-being programme, are designed to help you do just that.

(Pictured above) Pool deck
Spa
The spas are run by an experienced team of therapists proficient in all the latest treatments including:
- Massages and body scrubs
- Aromatherpy
- Acupuncture
- Oxygen facials
- Mud therapies
- Reflexology
- Massage experiences including ancient stones, Swedish, Sports and Balinese massages
- Men's treatments
- Hydropool (Arcadia only)
- Thermal Suite (Arcadia, Azura & Ventura only)
- The spas have individual treatment rooms with built in showers and many have their own private ocean view.
Salon
The salons have qualified stylists and makeup artistes on hand to keep you looking glamorous, or even to give you a complete makeover if you fancy a change.
Gym
The gymnasiums are fully equipped with all the latest Technogym equipment and trained fitness instructors will be there to give guidance where needed. Personal Trainers are available to tailor bespoke fitness programs to help you reach your fitness goals. Choices available include:
- Bikes
- Treadmills
- Cross-trainers
- Steppers
- Rowing machines
- Free weights
- Fitness classes
- Trixter Xdream Bikes (only available on some ships)
Sports and Games
All P&O ships have sports courts where you can get involved in fun group sports. P&O have all that you need to play all kinds of games:
- Deck tennis
- Football
- Cricket
- Golf
- Shuffleboard
- Deck quoits
Jogging on deck