Oriana's Farewell Season
After 24 years of service for P&O Cruises, the Oriana will be leaving the fleet. Her farewell voyage will be an 18 night Norway and North Cape Cruise on the 22nd July 2019.
Oriana's New Refit
Oriana has recently undergone a 3-week refurbishment to improve the overall guest experience on board. P&O Cruises listened to feedback from past passengers who had sailed on Oriana so these enhancements will certainly impress them and new passengers.
P&O collaborated with leading cruise-industry architects Richmond International (famed for creating luxury hotels on six continents, as well as P&O's Britannia) on a refit programme that encompasses redesigned staterooms, suites, entertainment areas, restaurants, bars, lounges and other public areas, including the Atrium which is pictured in the image on the right. Oriana now reflects the high standards that exists across the rest of the P&O fleet.
Guests can now enjoy new luxurious materials, soft furnishings and carpets, upgraded furniture, improved lighting and rich colour schemes. Oriana provides the ultimate levels of comfort and relaxation.
Past guests will be pleased to know that Oriana has still retained some of it's more distinctive features that make her unique compared to other cruise ships. She returns with defining features such as her Tiffany glass ceiling and Art Deco accents still in pride of place.
Let P&O Inspire You
Oriana has won many admirers over the years and clocked up countless nautical miles in our service. With her teak promenade and lido decks, tiered stern and wonderful classic features, Oriana is the very definition of cruising elegance and tradition.
With her signature tiered stern decks, Oriana is elegant and attractive. She has been specifically designed to suit British tastes; the broad teak promenade and lido decks are great for sun bathing and watching the world go by; the card room and wood panelled library are ideal for relaxing in, as are the bars including the Lord's Tavern sports bar and Anderson's with its leather armchairs and maritime artefacts.
Oriana's signature features are a stunning atrium with a Tiffany glass ceiling, a panoramic Crow's Nest bar and Marco Pierre White's Ocean Grill restaurant situated in the sumptuous surroundings of the Curzon Room. In addition to Ocean Grill, Oriana boasts other fabulous restaurants, including Sorrento, an Italian restaurant, and the Mediterranean styled Al Fresco. She also has a theatre, cinema, show lounge, nightclub and casino to ensure that entertainment is always within easy reach.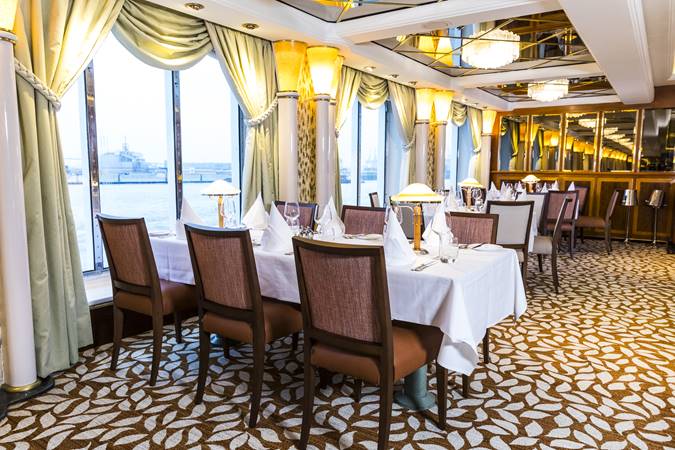 (Pictured above) The Peninsular Restaurant
If you want the flexibility to dine when you wish then Freedom Dining is the best option for you. If you opt for this then you will be dining in the stunning Peninsular Restaurant.
With Freedom Dining you'll still enjoy the special ambience and sociable atmosphere of a main dining room, with a five-course menu (six-course on Gala Nights). The difference from Club Dining is that this option allows you the flexibility to turn up at selected restaurants anytime you choose between 6pm and 9.30pm, with whom you like, and every effort will be made to accommodate you. Freedom Dining is included in your fare when you book a Select Price. Just opt for it when making your Select Price booking.
Alternatively, there are select dining options available on Oriana such as the Beach House. With seating inside and outside The Beach House is Oriana's informal Select Dining venue offering laid back dining with a coastal feel and international flavours.
The Beach House is situated within The Conservatory, extending onto the terrace, on Lido Deck, by the Terrace Bar. At night this area is transformed into The Beach House providing a menu of tempting and tasty culinary delights including steaks and seafood.

(Pictured above) The Beach House
Of course, holidays should be relaxing and Oriana is the perfect place to relax with the beautiful Oasis Spa and salon. However, if you prefer to be a little more active whilst on holiday, you'll find a state of the art gym, sports courts and golf nets.
Entertainment
P&O Cruises offer the very best in cruise entertainment. Evenings are the social highlight of the day when you are on board a P&O Cruises superliner. When the sun goes down your ship begins to come alive with the hum of conversation and music, and you can be sure you are in for a memorable night with our on board cruise ship entertainment.
The fleet presents an exciting range of venues and cruise ship entertainment:
Cocktail bars, nightclubs, casinos and theatres; Live bands, dramatic musicals and deck parties; Cabarets singers, comedians and speciality acts; Classical recitals and concerts; Quizzes and panel games to play, with prizes to be won; Special theme evenings including tropical, 60's & 70's or Black and White Ball themes; Cinemas and games rooms.
Diverse and fun, each ship has its own distinctive signature venues and experiences. So chat into the small hours or hit the dance floor. The special ambience of evenings on board will ensure your nights will be sociable and filled with entertaining fun.
Theatre and Cinema
In the theatres on a P&O Cruises superliner you will find some of the most lavish and spectacular shows at sea. There are compilations of West End and Broadway shows, as well as tributes to well known stars.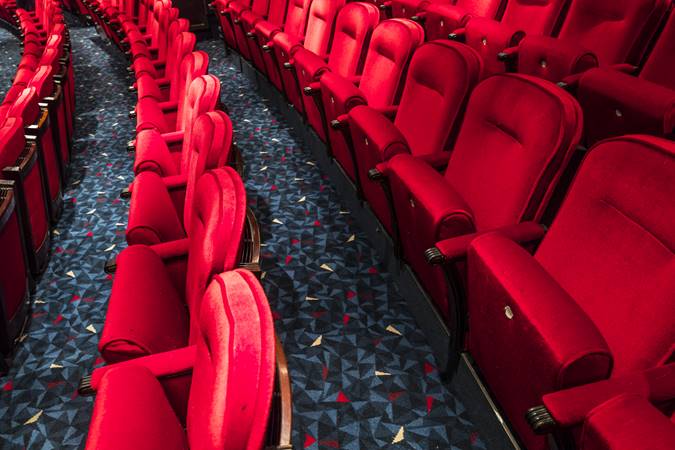 (Pictured above) Theatre Royal
The 650-seat Theatre Royal is located in the forward part of the ship on the Promenade Deck. It comprises of a traditional theatre colour scheme of rich red, blue, gold and maroon, combined with a Shakespearean Tudor rose motif and heraldic design. The Theatre Royal also has all the very latest technical advantages, with its high-tech audio, video and lighting equipment and its revolving stage. And with a different musical spectacular every night, this is one room that you will visit over and over again.
The on board cinemas show classic feature films and recent releases - many of which are shown months before they are released in the UK. You can easily imagine you are attending an indulgent premiere at one of London's top movie theatres!
Casinos
Is Lady Luck smiling on you? Stop into the sumptuous casino and try your luck. In P&O Cruises casinos you'll find the latest in the world of slot machines. There's also Three Card Poker, Texas Hold 'Em poker, Blackjack, Bingo and, of course, Roulette, one of the oldest and most popular games of chance.
If you haven't played before don't worry, you can join in the fun and informative gaming lessons. During these interactive sessions you can learn valuable tips and information to make your playing more enjoyable and possibly more profitable.
Nightclubs
If you are in the mood for dancing, head for one of the themed nightclubs. You'll find the atmosphere fun and lively, and you can dance to the music of DJs and live bands, playing everything from the 60's to the present day. These innovative entertainment venues feature state-of-the-art sound and lighting systems and dance floors - some with inlaid fibre-optic lights. And the bars are well stocked with your favourite refreshments.
Spa and Fitness
Opportunities for pure relaxation. The chance to rejuventate yourself. You can take advantage of both when you travel on a holiday with P&O Cruises. On board you will find some of the most luxurious spa facilities afloat offering all the latest treatments for men and women. Then there are saunas, steam rooms and hair salons. In fact, there's everything you need to be truly pampered.
If you want to get, or keep fit and healthy then the ocean-view gymnasiums, Personal trainers, sports courts, swimming pools and a comprehensive well-being programme, are designed to help you do just that.

(Pictured above) The Gym
Spa
The luxurious spa on board is run by an experienced team of therapists proficient in all the latest treatments including:
Massages and body scrubs
Aromatherpy
Acupuncture
Oxygen facials
Mud therapies
Reflexology
Massage experiences including ancient stones, Swedish, Sports and Balinese massages
Men's treatments
The spas have individual treatment rooms with built in showers and many have their own private ocean view.
Salon
The salons have qualified stylists and makeup artistes on hand to keep you looking glamorous, or even to give you a complete makeover if you fancy a change. The salons offer the following:
Hair styling
Colours
Manicures
Make-up makeovers
Men's grooming
Gym
The gymnasium is fully equipped with all the latest Technogym equipment and trained fitness instructors will be there to give guidance where needed. Personal Trainers are available to tailor bespoke fitness programs to help you reach your fitness goals. Choices available include:
Bikes
Treadmills
Cross-trainers
Steppers
Rowing machines
Free weights
Fitness classes
Trixter Xdream Bikes (only available on some ships)
Sports and Games
All of the ships in the P&O fleet have sports courts where you can get involved in fun group sports. There's also golf nets where you can practice your swing. We have all that you need to play all kinds of games.