Ventura is one of the largest cruise ships in the P&O Cruises fleet. Ventura is where you'll find an incredible choice of bars and restaurants. Plus Ventura also has a number of exciting features that are exclusively hers.
Ventura is a highly entertaining cruise ship. A theatre with full production shows doubles as a cinema, she has two lounges for cabaret, tributes, comedy and dancing and even Metropolis, an amazing bar with a panoramic video wall brought to life by a different city skyline each evening. She also has great sports facilities, a well equipped gym and spa, a large sports court and 4 pools (one with a retractable roof).
Dining
The White Room by Marco Pierre White
Ventura's signature restaurant is The White Room by none other than Marco Pierre White himself. But there are also 11 other restaurants to tempt you including a tapas bar and restaurant, a stunning Asian restaurant and a choice of Club Dining - the same table at the same time each evening, and Freedom Dining - no fixed seating or dining times.

(Pictured above) The White Room by Marco Pierre White
Saffron & Cinnamon Restaurant
Like to escape the usual routine on holiday? Then you'll love the flexibility of Freedom Dining. Opt for an early dinner one night and a late supper the next; you can shape each day as you please.
With Freedom Dining you'll still enjoy the special ambience and sociable atmosphere of a main dining room, with a five-course menu (six-course on Gala Nights). The difference from Club Dining is that this option allows you the flexibility to turn up at selected restaurants anytime you choose between 6pm and 9.30pm, with whoever you like, and every effort will be made to accommodate you. Freedom Dining is included in your fare. Book Select Price to specifically select your dining option.
Bay Tree Restaurant
Choose a particular Club Dining seating and you'll dine at the same time and table each night and enjoy the same company. It's the way many a friendship has been made on board.
With Club Dining you'll enjoy the special ambience and sociable atmosphere of the main dining room, and a five-course menu (six-course on Gala Nights). This style of dining is a wonderful way to share your holiday experiences and meet new friends.

(Pictured above) The Bay Tree Restaurant
By choosing Club Dining you're opting for the cruising tradition of set sitting times. The same table will be reserved for you and your table companions every night for first or second sitting, at 6.30pm or 8.30pm. You can request your preferred sitting when you book a Select Price and we'll inform you of your table number and sitting with a card in your cabin when we welcome you on board.
Afternoon Tea
Classic English Afternoon tea served on board daily.
Treat yourself to a classic English afternoon tea, served daily in the main restaurants. You can enjoy a selection of finger sandwiches, delicious cakes and of course the all important scone topped with clotted cream and jam, all served alongside a pot of tea or coffee.
Select Dining Options
The Epicurean
A sense of occasion is permanently on the menu at The Epicurean.
Here you will find a selection of much loved classic dishes. It's all about taking the finest British ingredients - fresh, seasonal and all thoughtfully sourced by our team of Executive Chefs - and presenting them with great skill to achieve maximum flavour. Expect the finest cuts of organically-reared meat, and the best seafood and fish British shores have to offer.
Sindhu
Atul's restaurant, Sindhu, will showcase an elegant fusion of Indian and British cuisine featuring sublime flavours.
Enjoy a menu inspired by Atul Kochhar. His Soft Shell Crab and Squid Salad is sure to be a favourite. Guests will also be able to order from a lighter menu for a more informal bite to eat, or sample one of Atul's exotic cocktails from the equally chic bar.
The Glass House
If you enjoy a glass of wine with your meal you'll want to visit The Glass House. On the venue's signature menu every course comes with the option of a different glass of wine, expertly matched by our expert, Olly Smith. With a handsomely stocked wine cellar and mouth-watering daytime and evening menus, The Glass House is a relaxed, informal haven of good food and fine wine. What's more, selected bottles is available by the glass, so there's no need to order the whole bottle to sample a particular vintage.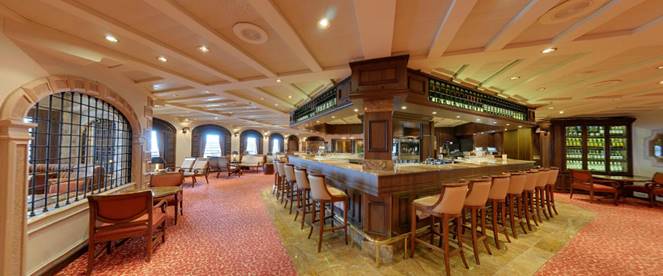 (Pictured above) The Glass House
The Beach House
The Beach House transforms into a chilled out grill at night. Informal, fun and full of fantastic flavours.
The Beach House offers an experience that can't be found anywhere else on board. The menu features ingredients from across the globe alongside regional speciality dishes such as Cuban Pulled Pork and American Baby Back Ribs. You can even cook your own Fillet of Beef on our speciality Lava Rocks. With only a small cover charge, dining here represents exceptional value for money (and your taste buds will definitely thank you!). An additional supplement applies to selected items.
Entertainment
Arena Theatre
Ventura's two-tier theatre is located forward on Deck 7.
West End-style shows and cabaret light up her technologically advanced stage, but you can also enjoy talks and watch films on the big screen in this venue.
Tamarind Club
The rich fabrics and colours of the Indian subcontinent provide the inspiration for Ventura's Tamarind Club on Deck 7.
Imperial and exotic touches will combine to create an element of escapism and opulence. A wonderful setting for comedy and live music, this venue will provide a memorable night. Listening to the comedians centre stage, you can soak up the jovial atmosphere and revel in great company and entertainment.
During the day in this venue you can enjoy enrichment lectures and port lectures.

(Pictured above) Tamarind Club
Havana
Visit Havana, Ventura's Cuban themed nightclub, for all the passion and exuberance of Latin America.
This venue will be found on Deck 7 aft. This will be the place to party into the night. With a stage and dance floor you might dance to a live band or DJ, take part in some karaoke, or enjoy some late night cabaret. This vibrant venue will get livelier as the night progresses. Order a mojito, let your hair down and get your feet moving to those salsa rhythms.
Fortunes Casino
Is Lady Luck smiling on you? Stop into our sumptuous casinos and try your luck. In P&O Cruises casinos you'll find the latest in the world of slot machines. There's also Three Card Poker, Texas Hold 'Em poker, Blackjack, Bingo and, of course, Roulette, one of the oldest and most popular games of chance.
If you haven't played before don't worry, you can join in the fun and informative gaming lessons. During these interactive sessions you can learn valuable tips and information to make your playing more enjoyable and possibly more profitable.
Family Fun
P&O Cruises exciting free on-board programme for 2-17 year olds is called The Reef. Split into four age groups, there are a whole host of exciting activities organised daily by our enthusiastic and well-qualified Reef Rangers, to keep children of all ages entertained safely throughout the day and evening, and to ensure that they have the chance to make friends of their own age. We really have thought of everything, so why not let us take the stress out of family holidays.
Spa and Fitness
Opportunities for pure relaxation. The chance to rejuventate yourself. You can take advantage of both when you travel on a holiday with P&O Cruises. On board you will find some of the most luxurious spa facilities afloat offering all the latest treatments for men and women. Then there are saunas, steam rooms and hair salons. In fact, there's everything you need to be truly pampered.
If you want to get, or keep fit and healthy then our ocean-view gymnasiums, Personal trainers, sports courts, swimming pools and a comprehensive well-being programme, are designed to help you do just that.
Spa
Our spas are run by an experienced team of therapists proficient in all the latest treatments including:
Massages and body scrubs
Aromatherpy
Acupuncture
Oxygen facials
Mud therapies
Reflexology
Massage experiences including ancient stones, Swedish, Sports and Balinese massages
Beauty treatments including non-surgical lifting and teeth whitening (not available on all ships)
Men's treatments
Hydropool (Arcadia only)
Thermal Suite (Arcadia, Azura & Ventura only)
Endless pool (Ventura only)
The spas have individual treatment rooms with built in showers and many have their own private ocean view.

(Pictured above) Pool Deck
Salon
The salons have qualified stylists and makeup artistes on hand to keep you looking glamorous, or even to give you a complete makeover if you fancy a change.
Hair styling
Colours
Manicures
Make-up makeovers
Men's grooming
Gym
Our gymnasiums are fully equipped with all the latest Technogym equipment and trained fitness instructors will be there to give guidance where needed. Personal Trainers are available to tailor bespoke fitness programs to help you reach your fitness goals. Choices available include:
Bikes
Treadmills
Cross-trainers
Steppers
Rowing machines
Free weights
Fitness classes
Trixter Xdream Bikes (only available on some ships)
Sports and Games
All of our ships have sports courts where you can get involved in fun group sports. There's also golf nets where you can practice your swing and on Oceana and Aurora you'll find golf simulators. We have all that you need to play all kinds of games:
Deck tennis
Football
Cricket
Golf
Shuffleboard
Deck quoits
Jogging on deck