Aboard The Yachts of Seabourn, the world is more intimate and more enchanting. Here, you'll explore ports rarely visited by larger ships and meet people who are happy to show you around their hidden corner of the globe.
Arabia, Africa & India
Join us on one of these thrilling voyages, to Arabia, Africa and India.
Asia
Enjoy the exotic and mysterious beauty of Asia aboard your own yacht.
Caribbean
The crown jewels of the Caribbean beckon you to explore.
Grand Voyages
Save money and extend your adventure by combining two or more cruises and see more of the world.
Mediterranean
See history come alive as you visit the legendary lands and vibrant cultures of the Mediterranean.
Northern Europe
Explore hidden fjords, remote villages and unspoiled scenery along the North and Baltic Seas.
South & Central America
The wonders of ancient civilizations bordered by lush rainforests greet you at every turn.
Transatlantic
Journey back in time aboard luxurious yachts as you cross the Atlantic in style.
World Cruise
Sail the paths of famed explorers from far flung ports to some of the world's most exotic locales.
Seabourn Odyssey
Accommodations
Redefining elegance at sea, Seabourn Odyssey offers unparalleled choice in accommodations. Choose from 225 ocean view suites measuring 295 to 1,682 square feet, 90% with private verandas.
Dining
Seabourn Odyssey is sure to delight you with its eclectic Seabourn's chef's shine as each restaurant offers discerning guests a different experience, from avant garde tasting menus to casual meals on deck.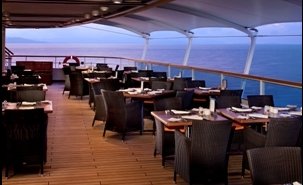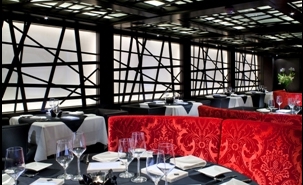 The Restaurant
Our gourmet open-seating Restaurant spares nothing offering guests Charlie Palmer's exceptional cuisine at tables set with exquisite china and crystal. Most evenings, attire is just "jacket required." On special nights we host candlelit black tie optional dining. After dinner, dance the night away in the sophisticated supper club setting.
The Colonnade
Exclusive to Seabourn Odyssey is our indoor/outdoor restaurant, The Colonnade. Here, chefs serve breakfast, lunch and dinner in an open kitchen so you can watch them work their magic as they personally prepare your order. Each evening has a different theme, offering guests an ever-changing culinary experience.
Patio Grill
If you're in the mood for casual dining at its finest, enjoy breakfast, lunch or dinner poolside at the Patio Grill. The superb offerings are sure to delight your palette as you enjoy the relaxed ambiance by the pool.
In Suite Service
If you're in the mood for a late night pizza or just some fresh crudités in your suite, we offer an extensive room service menu around the clock. During dinner hours, you can choose to have dinner served course by course in your suite, complete with fine linens and personal service.
Introducing Seabourn's New Signature Restaurant, The Grill by Thomas Keller
Seabourn have revealed renderings for its new signature fine-dining restaurant, The Grill by three-star Michelin chef Thomas Keller, which will debut in May 2016 onboard Seabourn Quest.
The new signature restaurant will be added to each Seabourn vessel, including the newest Seabourn Encore, entering service in December this year. The Grill by Thomas Keller will move into newly renovated spaces formerly occupied by Restaurant 2 onboard the current fleet, whereas Seabourn Encore and Ovation will offer The Grill by Thomas Keller right from its launch.
The interior will be designed by Adam D. Tihany who will enhance the dining experience with spaces that will be distinctive to the ships, yet defined by intimate settings with an elegant and warm masculine quality.
The Grill by Thomas Keller will boast a timeless menu featuring the freshest produce from artisan purveyors, such as table-side preparations of Caesar salad and ice cream sundaes as well as a range of other steakhouse favourites like Lobster Thermidor and creamed spinach, presented a la carte. In keeping with Seabourn's all-inclusive rates, there is no additional charge to dine at The Grill.
The Spa at Seabourn
Step into our magnificent sanctuary of health and fitness - The Spa at Seabourn - and let your senses and spirits soar with our innovative therapies, state-of-the-art fitness centre and full-service salon.
With a panoramic sliding glass wall that leads to our outdoor relaxation area, The Spa at Seabourn covers two decks. Here, you can succumb to temptation. Enjoy a variety of treatments in one of our seven private treatment rooms or experience the renewing energy of the ancient Chinese arts of reflexology and aromatherapy.
If you'd like, step into one of Seabourn's Finnish saunas or aromatic steam rooms for some traditional therapy or slip into the thalassotherapy pool and let its waters work their magic. Or explore the healing properties of warm stones, seaweed wraps or full facials. Don't know where to start? Ask one of Seabourn's certified massage therapists and they will be happy to custom design a spa package based on your preferences.
For those who want a workout, head over to the fully-equipped gym with state-of-the-art cardio, strength and weight training equipment. If you wish, you can have a personal trainer work with you. Be sure to try the Kinesis TM Wall, a unique pulley and cable system that is the newest, most innovative method of exercise available today.
Finally, enjoy a manicure or full makeover in our full-service salon. Our staff will ensure that you glow from head to perfectly pedicured toe.
Discover for yourself why The Spa at Seabourn was rated the Top Cruise Line Spa by the readers of Conde Nast Traveller. The expert therapists will soothe your senses and renew your inner glow.
Seabourn Activities
Seabourn yachting life SM offers a wide range of activities, both aboard ship and in port. The Odyssey was built specifically with our guests in mind and many of the features and amenities aboard Odyssey were their idea.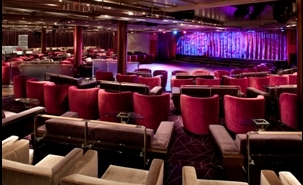 Daytime
Enjoy the exhilarating view from our whirlpool on the bow while a steward serves you chilled champagne. Meet acclaimed experts, celebrities and chefs in our exclusive Dress Circle® enrichment program. Compete in a golf putting competition in the Sky Bar, learn the tango or show your prowess at cards in ACBL-sanctioned bridge competitions.
In select ports of call, you can spend an unforgettable day enjoying the water without having to step ashore. Our ships have their own built-in marinas so you can go swimming, snorkelling, windsurfing, kayaking or waterskiing right from the ship. In other ports, we host a lavish beach party on a secluded stretch of sand, complete with fresh grilled seafood and Caviar in the Surf SM. When visiting any of our secluded ports you can ask our Signature Service Desk to help you plan the perfect day ashore. These experts have a wealth of personal knowledge at their disposal about each port we call upon. Even if you're unfamiliar with the destination, they can help you feel right at home with the local culture, people and places.
Nighttime
Laughter floats from the lounges to the decks as guests sip champagne and wander from one entertainment venue to the next.
After toasting the final rays of the sun as they sink into the sea from the Sky Bar, you can swing to the rhythm of the six-piece combo in the lounge before heading to dinner in one of our gourmet restaurants. Dine at your own leisure; then plan for a big night. The Yachts of Seabourn has something for everyone when it comes to nightlife.
Enjoy the tales of fellow travellers, and share some of your own, in the Observation Lounge, accompanied by the strumming of live classical guitar. If you´re feeling lucky, head to the casino and play a hand of Blackjack.
If you're looking for live entertainment, head to the lounge for the night's line-up: laugh along with a comedian or relive fond memories while enjoying a Broadway Revue. In The Club, bring your dancing shoes and show off your moves or watch others trip the light fantastic to the live band.
When the weather is favourable you can watch first run movies during Movies under the Stars SM, complete with fresh popcorn. Or enjoy a delicious flambé, created before your very eyes by one of our chefs during Dessert under the Stars. On special nights, the captain turns off all the ship's lights. And to cap off the night, don't forget a romantic stroll around the upper deck, marvelling at the wonders of the universe while you enjoy a glass of 25-year-old scotch.
Seabourn Signature Delights
Discerning travellers expect and deserve the very best. And that's what Seabourn Signature Delights® are all about - the very best life has to offer.
Seabourn Signature Delights are the little things that make your experience an extraordinary one at every turn.
They include:
* An intimate yacht that visits places inaccessible to others
* All-suite accommodations
* Impeccable personalized service
* Open bar throughout the ship
* Open-seating Restaurant with gourmet, prepared-to-order cuisine created by celebrity chef Charlie Palmer
* Evening Under the Stars® sumptuous barbecue dinners or gala parties with live music and dancing on the open deck
* Fine soaps by Hermes and L'Occitane; bath amenities by Molton Brown
* Pure Pampering SM bath drawn by your suite stewardess
* Caviar in the Surf® where available
* Seabourn's Personal Shopper SM
* Shopping with the Chef
* Water sports from the ship's unique marina
* Wi-Fi access from suites and public rooms; cell phone service at sea
* Tipping is neither required nor expected
Sailing aboard one of Seabourn's yachts is an adventure in elegance and sophistication. Seabourn Signature Delights are designed with this in mind.
If there's anything you need, just ask one of Seabourn's attentive staff, if they don't ask you first. Whether it's a frozen towel to cool off with on deck, another glass of chilled champagne or some extra sun block to ward off the sun's rays, our professional staff will happily indulge your slightest whim.
Rest assured that you will fall in love with Seabourn yachting life over and over again.