Winter Garden Suite - Category WG
Wintergarden Suite - 1,097 sq. ft. (102 sq. m.)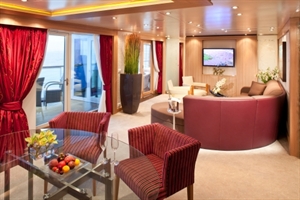 Separate living area and bedrooms
Walkin closet
Flat-screen interactive TV(s) featuring music, movies
Fully stocked bar replenished daily
Writing desk
Spacious granite bathroom with separate tub and shower, twin sinks and glass vanity
Hair dryer
110/220 outlets
Direct-dial telephone
Private electronic safe
Best-selling audiobooks, CDs and DVDs
Signature Suite - Category SS
Signature Suite - 1,302 sq. ft. (121 sq. m.)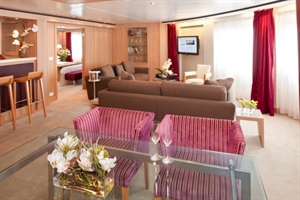 Separate living area and bedrooms
Walkin closet
Flat-screen interactive TV(s) featuring music, movies
Fully stocked bar replenished daily
Writing desk
Spacious granite bathroom with separate tub and shower, twin sinks and glass vanity
Hair dryer
110/220 outlets
Direct-dial telephone
Private electronic safe
Best-selling audiobooks, CDs and DVDs
Owners Suite - Category OW
Owner's Suite - 760 to 1,067 sq. ft.(71 to99sq.m.)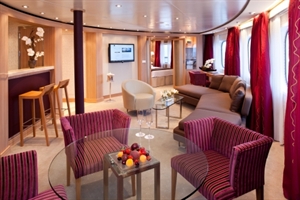 Separate living area and bedrooms
Walkin closet
Flat-screen interactive TV(s) featuring music, movies
Fully stocked bar replenished daily
Writing desk
Spacious granite bathroom with separate tub and shower, twin sinks and glass vanity
Hair dryer
110/220 outlets
Direct-dial telephone
Private electronic safe
Best-selling audiobooks, CDs and DVDs
Penthouse Suite - Category PH
Penthouse Suite - 534 sq. ft. (50 sq. m.)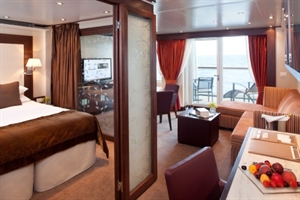 Separate living area and bedrooms
Walkin closet
Flat-screen interactive TV(s) featuring music, movies
Fully stocked bar replenished daily
Writing desk
Spacious granite bathroom with separate tub and shower, twin sinks and glass vanity
Hair dryer
110/220 outlets
Direct-dial telephone
Private electronic safe
Best-selling audiobooks, CDs and DVDs
Seabourn offers 24-hour spa experience with new Penthouse Spa Suites
Guests can now enjoy this new luxury accommodation on board Seabourn Odyssey following installation on Seabourn Quest in autumn 2013; Seabourn Sojourn will be the last of the trio to be fitted with the new suites in spring 2015.
Penthouse Spa Suite guests will enjoy unlimited access to the Serene Area of the spa and the services of a spa concierge throughout the voyage, as well as special spa amenities and features in the suite and its large marble bathroom.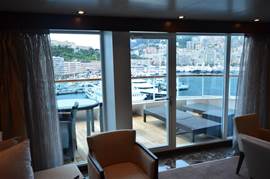 In addition to a personalised in-suite bar containing guests' favourite drinks and mixers as standard, Penthouse Spa Suite guests will find a second in-suite bar dedicated to healthy drinks and snacks including flavoured water, fruit juices, mixed nuts and dried fruits.
Located on Deck 10 directly above the spa facility, the suites are accessed exclusively by means of a spiral staircase from the spa lobby. They offer 516 or 538 square feet of indoor space, along with 172-square foot private verandas with sweeping views over the stern of the ship and the sea. Seabourn has created the suites in response to the popularity of its spas with cruising travellers.
Seabourn's three Odyssey-class ships received rave reviews and acclaim as "game changers" for the luxury cruise segment when they entered service beginning with Seabourn Odyssey in 2009, and followed by Seabourn Sojourn in 2010 and Seabourn Quest in 2011. The ships offer spacious suites, most with verandas; superb dining in a choice of venues; open bars throughout the ship; fine wines served at lunch and dinner; award-winning personalised service and a relaxed, sociable atmosphere. At 32,000 tons and carrying just 458 guests each, the ships provide one of the highest ratios of space per guest in the industry and unmatched levels of personalised service from nearly one staff member per guest.
Veranda Suite - Category V1 to V6
Veranda Suite - 365 sq. ft. (34 sq. m.)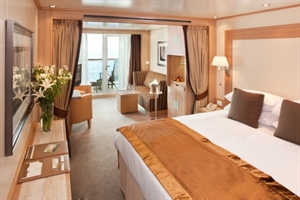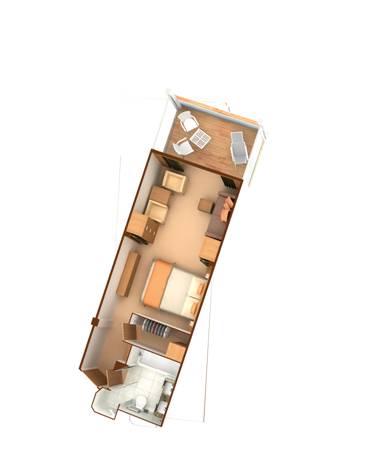 Separate living area and bedrooms
Walkin closet
Flat-screen interactive TV(s) featuring music, movies
Fully stocked bar replenished daily
Writing desk
Spacious granite bathroom with separate tub and shower, twin sinks and glass vanity
Hair dryer
110/220 outlets
Direct-dial telephone
Private electronic safe
Best-selling audiobooks, CDs and DVDs
Seabourn Suite - Category A to A1
Seabourn Suite - 295 sq. ft. (27.5 sq. m.)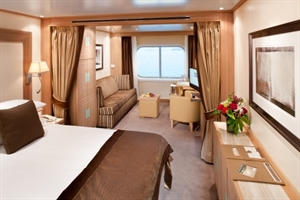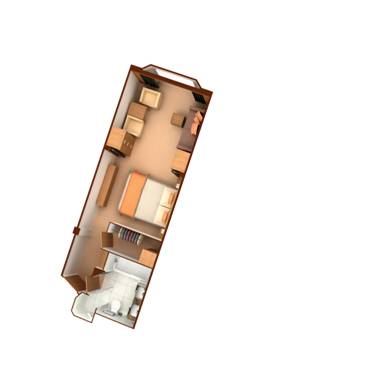 Separate living area and bedrooms
Walkin closet
Flat-screen interactive TV(s) featuring music, movies
Fully stocked bar replenished daily
Writing desk
Spacious granite bathroom with separate tub and shower, twin sinks and glass vanity
Hair dryer
110/220 outlets
Direct-dial telephone
Private electronic safe
Best-selling audiobooks, CDs and DVDs