NEW 2018 REFURBISHMENT
Amplify your experience!
The all-new Silver Spirit has never looked better, nor felt cosier. Fully refurbished for a superlative onboard adventure, she retains our world famous standards of service and home away from home feel.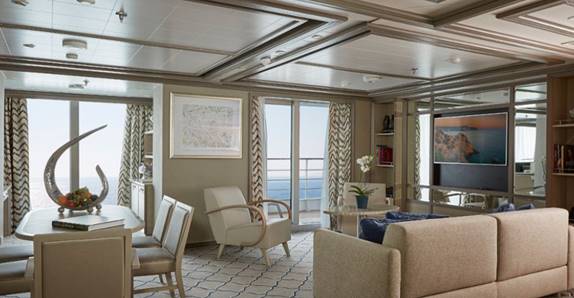 (Pictured above) A refurbished Owner's Suite.
Not only has the ship been refurbished, but Silver Spirit has also been stretched. It is the first ever ship lengthening conducted by Silversea and it took place at the Fincantieri shipyard in Palermo, Italy. The lengthening process consisted of adding a 49-foot-long midsection to the ship which has seen the addition of more suite accommodation including 6 Silver Suites, 26 Veranda Suites and 2 Panorama Suites.
Please see the video below for a time lapse of the lengthening process:
The lengthening project has brought the ship to an exceptional standard. There has been many improvements to the décor and there is a greater feel of spaciousness in public areas and suites. The ship's pool deck has also been enlarged along with a new eight-restaurant arrangement has increased dining options, with the introduction of Spaccanapoli, Silver Note, Atlantide, and Indochine, as well as the renovation of La Terrazza; and a number of new amenities have upgraded the onboard offering, including the Arts Café, Tor's Observation Library, the Zagara Spa, the Panorama Lounge, and the chic Dolce Vita lounge.
The outdoor public areas have increased in size, as the pool area has expanded to offer additional space for relaxing under the sun and a new aerobics area has also been created. The Zagara Spa concept has been installed inside, with a new free weights room which complements the enhanced fitness centre. The Arts Café and Dolce Vita also improves the onboard entertainment options.
The Executive Vice President of Fleet Operations for Silversea Cruises, Christian Sauleau, has commented: "Based on the wonderful feedback from guests sailing aboard our beautiful Silver Muse, we believe the comprehensive makeover we have planned for Silver Spirit will enrich the onboard experience and be equally appreciated by guests. They will see many of Silver Muse's innovations and elevated comforts embodied by our reimagined Silver Spirit."
Silversea are looking to bring all ships in their fleet up to the standards of Silver Muse so that they all consist of the finest, luxury accommodation and public spaces.
An Intimate & Luxurious Experience
Combining all the hallmarks of the Silversea luxury cruise experience, Silver Spirit is a true definition of their heritage, with a modern edge.
The 540-passenger ship offers 270 ocean-view suites and some of the largest suites in the fleet, of which 95% benefit from a private verandah.
Guests on this ship can expect some fantastic culinary delights in the new Asian restaurant, as well as a large spa offering new treatments and pampering sessions.
The ship's interiors have been designed by Italian architect Giacomo Mortola, unlike previous Silversea ships, which were designed by Yran & Storbraaten. Silver Spirit incorporates all the features of Silversea's current ships and reflects Silversea's self-imposed levels of excellence and reaffirms the cruise line's exceptional standards of timeless elegance.
Seishin Restaurant
Innovative Asian fusion cuisine, Kobe beef and spider lobster vie for the attention of your tastebuds in this cosy, stylish venue. Seishin features a large, round chef's table as its centrepiece. Settle in to the surrounding tables and watch the chef at work sculpting fresh sushi and sashimi.
La Terrazza
Authentic Italian recipes and the freshest, sustainable ingredients come together in this restaurant at sea.

(Pictured above) La Terrazza Restaurant.
La Dame
LaDame features a menu of seasonally inspired dishes prepared with the freshest locally sourced ingredients.
Indochine
Evoking a sense of exotic mystery, the Asian-accented Indochine embarks you on an exquisite journey of culinary discovery.
The Grill
Soft breezes and ocean views beckon at the Grill, especially as the sun goes down when cruise guests gather for cocktails at the outdoor bar and talk about the day's events.
Silver Note
Small plate tapas-style dishes of mouth-watering international cuisine perfectly compliments the rich, exciting entertainment as the smooth sounds of jazz and blues gently caress your ears.
Atlantide
Pivotal to Silver Spirit dining experience, this elegant bar and grill incorporates the best that the sea has to offer.

(Pictured above) Atlantide.
Spaccanapoli
Reflecting Silversea's Italian heritage, this emblematic street in Naples divides the city in two and is renowned for its pizzerias.
The Connoisseur's Corner
The Connoisseur's Corner offers exceptional cognacs along with a premium selection of cigars for purchase.
The Bar
Located in the Reception lobby area, The Bar invites guests to socialise throughout the day over specialty coffees, tapas and complimentary cocktails.
Pool Bar & Grill
Casual and convenient. At the Pool Bar, cocktails are served with soft ocean breezes. Poolside menu options feature healthy CruiseLite selections and light fare for lunch and dinner including grilled meats and fresh-from-the-oven pizza.
Arts Café
Hosting varies, exciting exhibitions, the Arts Café will showcase painting and sculptures from a broad range of talent.
Panorama Lounge
The Panorama Lounge is specially designed to provide an uninterrupted view of the day's destination from the comfort of the ship's interior. This is an ideal place to unwind, enjoy afternoon tea, listen to the pianist and watch the setting sun.
Dolce Vita
No cruise is complete without meeting new people. Enjoy complimentary drinks and live music at the bar while meeting other guests.

(Pictured above) Dolce Vita.
Observation Deck
The ideal place for scenic days at sea whether cruising New Zealand's fiords or traversing the Panama Canal, this vantage point far forward and high atop the ship is perfect for that "king of the world" feeling.
Venetian Lounge
Applaud a broad spectrum of entertainment — from full-scale production shows and classical soloists, to cultural entertainment and feature films. Throughout your voyage, the Show Lounge also presents port talks, enrichment lectures and a variety of special events.
Casino
Roulette, blackjack and slot machines are available in The Casino for guests 18 years or older. If you are a novice, come to the champagne reception and learn all the games offered aboard.
Pool Deck
Teak chaise lounges arranged in the sun or shade. Bubbling whirlpools. The pool water refreshing in warmer climates, heated for cooler weather. The attentive staff at the ready with an oversized towel as you emerge from the pool, with your favourite beverage at just the right moment.
Beauty Salon
A full range of salon services is available for both men and women including hairstyling, manicures and pedicures. Appointments for these chargeable services may be made on board the ship, or in advance via My Voyage.
Fitness Centre
The Fitness Centre is equipped with free weights, weight machines, state-of-the-art treadmills, elliptical trainers and recumbent and upright bicycles. Classes in aerobics, yoga, Pilates and circuit training are led by the onboard fitness trainer and are always complimentary.
Zagara Spa
Relax, rejuvenate and renew all your senses. At 8,300 square feet, The Spa is a sanctuary of pure bliss, featuring floor-to ceiling windows, nine treatment rooms, indoor/outdoor relaxation areas, and an outdoor whirlpool. Indulge in a wide range of invigorating therapies including facials, body wraps and massages.

(Pictured above) Zagara Spa.
Boutiques
Featuring designer collections and duty-free shopping, the onboard Boutiques offer a selection of jewellery, fashions, perfumes and Silversea logo items. Shops are closed while in port and on occasion due to local government regulations. Toiletries and convenience items are also available for purchase.
Card Room
Bridge games and tournaments take place most days in the Card Room. On days at sea, newcomers to the game can learn how to play.
Tor's Observation Library
Set on the highest level at the very top of the ship, this is a quiet space for reading and reflection while being dazzled by the undulating seascapes that are constituent to life on board. The Library has an extensive selection of hardcover books, magazines, reference materials and newspapers, as well as audio listening stations. Movies are also available and can be viewed on your in-suite entertainment centre.
Internet Cafe
Email friends and family back home or surf the web for a nominal fee. CD burners, headphones, digital camera media readers, and complimentary black and white laser printing are also available.