Silver Whisper's NEW Look!
Silver Whisper has undergone an extensive refurbishment that has seen a new appearance for the luxurious suites and public spaces on board.
The suites and bathrooms have been refitted with dark emperor marble flooring, delivering a strong sense of elegance. Public spaces have also seen an enhancement with a freshly tiled pool and new chaise lounges that establish new levels of comfort and style into open air spaces. Dining areas such as The Restaurant and La Terrazza have been redesigned with plush new carpet and elegant hard-wood parquet and new furniture that reflects contemporary glamour throughout the ship.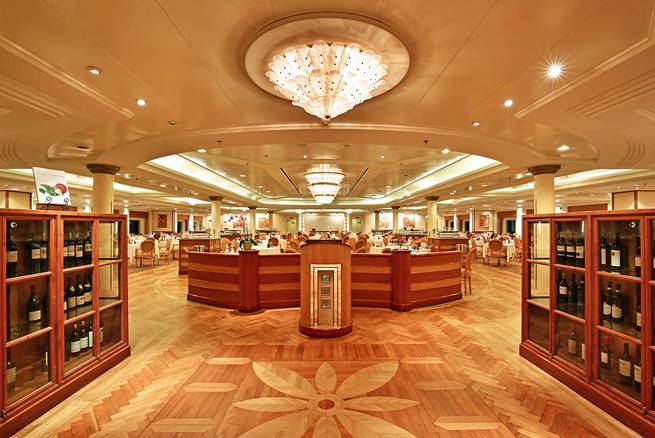 (Pictured above) The Restaurant
The refurbishment of Silver Whisper is a part of Silversea's largest ever fleet-wide refit plan, worth $170 million. The investment has successfully maintained Silversea's self-imposed high levels of excellence and reaffirms the exceptional standards of guest comfort and timeless elegance on board.
Intimate Luxury
Taking Silversea's award-winning concept of all-suite luxury to the next level, these two sister ships - Silver Shadow and Silver Whisper - are slightly larger, yet retain the familiarity and intimacy of Silversea's two earlier ships. Aboard the Silver Whisper cruise ship, savour a convivial cosmopolitan ambience and many special amenities usually found only on larger ships, including boutique shopping; a wellness spa with beauty salon, fitness centre and sauna; full-scale productions in a multi-tiered show lounge; an Internet Café and WiFi service from stem to stern.
The Silver Whisper was launched in 2001, just after the Silver Shadow, the newest in the Silversea Millennium Class generation. The slightly larger, but no less exclusive and luxurious, Whisper provides a six-star personalised service to no more than 382 guests at any one time.
This elite vessel provides the extreme luxury as would be normally seen on a private yacht. Every suite on board enjoys a panoramic sea view, and provides a sumptuous private space. 80% of the suites on board have their own private verandahs, perfect sleek teak spaces to enjoy breakfast and the view of the next destination approaching. The suites themselves have the highest space-to-guest ratio of any fleet in the world.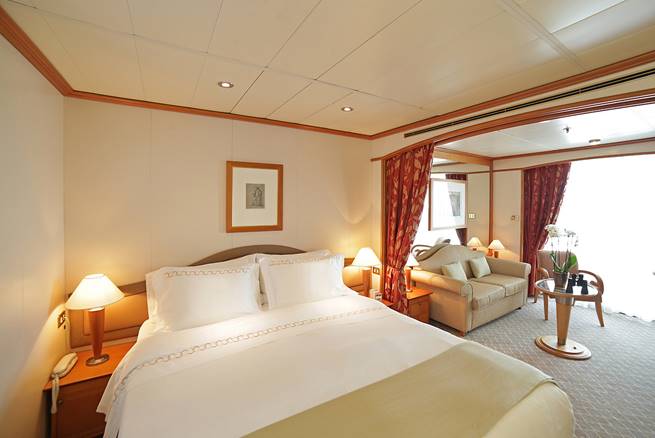 (Pictured above) Veranda Suite
On board, guests enjoy the freedom of choice to do nothing or anything. The spa provides a complete pampering service and full range of therapies, to allow you ultimate relaxation. The pool on deck is the perfect place to spend an afternoon whiling away time, perhaps with a book from the library. Mealtimes are exquisite, with fine Italian dining the speciality, paired with superb wines. There are a range of dining options available, with an indoor/outdoor cafe and a Poolside Grille as well as the main dining room.
In the evenings, the Silver Whisper comes to life with a selection of stellar entertainment. The Show Lounge features some fantastic productions, The Bar hosts cabaret, jazz and live piano, and the Panorama Lounge offers dancing below deck until late. There are also lectures from distinguished guest speakers, and wine tasting evenings from specialists. A trip on the Silver Wind is an experience of a lifetime, surrounded by a crew wishing to fulfil your every whim, it is one which must be seen to be believed.
The Restaurant
Sparkling with silver, crystal and candlelight, The Restaurant encircles its guests with sophisticated elegance and impeccable service. Contemporary, international cuisine is created by talented chefs, and menus feature a series of signature dishes created exclusively for Silversea by Relais & Châteaux.
La Terrazza
A divine selection of Italy's best cuisine is served à la carte in La Terrazza. Authentic recipes and the freshest ingredients come together with flair and passion - a flavourful expression of Silversea's distinctive Italian heritage that embraces the principals of the Slow Food movement.

(Pictured above) La Terrazza
Le Champagne
The only Wine Restaurant by Relais & Châteaux at sea can be found aboard the ships of Silversea. Indulge in an evening where fine wines are complemented by a set tasting menu of regionally inspired dishes in an intimate, elegant setting.
The Connoisseur's Corner
The Connoisseur's Corner offers exceptional cognacs along with a premium selection of cigars for purchase.
The Bar
With complimentary cocktails and engaging conversation, live music and a dance floor, The Bar welcomes guests to mix and mingle.
Pool Bar & Grill
Casual and convenient. At the Pool Bar, cocktails are served with soft ocean breezes. Poolside menu options feature healthy CruiseLite selections and light fare for lunch and dinner including grilled meats and fresh-from-the-oven pizza.
Panorama Lounge
The Panorama Lounge is specially designed to provide an uninterrupted view of the day's destination from the comfort of the ship's interior. This is an ideal place to unwind, enjoy afternoon tea, listen to the pianist and watch the setting sun.
Observation Lounge
A quiet retreat above the bow of the ship invites you to settle in to a comfortable seat and enjoy a beverage while watching the ever-changing view. The Observation Lounge also offers a radar screen, astronomical maps, binoculars, reference books and board games.
Show Lounge
Every seat in this multi-tiered venue enjoys a clear view to the stage. Applaud a broad spectrum of entertainment — from full-scale production shows and classical soloists, to cultural entertainment and feature films.
Casino
Roulette, blackjack and slot machines are available in The Casino for guests 18 years or older. If you are a novice, come to the champagne reception and learn all the games offered aboard.
The Spa
Relax your body and mind in this soothing sanctuary. Indulge in a wide range of invigorating therapies including facials, body wraps and massages.
Pool Deck
Teak chaise lounges arranged in the sun or shade. Bubbling whirlpools. The pool water refreshing in warmer climates, heated for cooler weather. The attentive staff at the ready with an oversized towel as you emerge from the pool, with your favourite beverage at just the right moment.
Beauty Salon
A full range of salon services is available for both men and women including hairstyling, manicures and pedicures. Appointments for these chargeable services may be made on board the ship, or in advance via My Voyage.
Fitness Centre
The Fitness Centre is equipped with free weights, weight machines, state-of-the-art treadmills, elliptical trainers and recumbent and upright bicycles. Classes in aerobics, yoga, Pilates and circuit training are led by the onboard fitness trainer and are always complimentary.
Boutiques
Featuring designer collections and duty-free shopping, the onboard Boutiques offer a selection of jewellery, fashions, perfumes and Silversea logo items. Shops are closed while in port and on occasion due to local government regulations. Toiletries and convenience items are also available for purchase.
Library
The Library has an extensive selection of hardcover books, magazines, reference materials and newspapers, as well as audio listening stations. Movies are also available and can be viewed on your in-suite entertainment centre.
Card Room & Conference Room
Bridge games and tournaments take place most days in the Card Room. On days at sea, newcomers to the game can learn how to play. Should your group require a conference or meeting space, Silversea is pleased to provide a tailor-made experience. Audio-visual equipment is available and complimentary.
Internet Cafe
Email friends and family back home or surf the web for a nominal fee. CD burners, headphones, digital camera media readers, and complimentary black and white laser printing are also available.