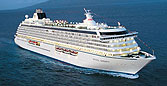 Crystal Symphony and Crystal Serenity are two ships which truly reflect their names. Symphony holds just over 900 guests and Serenity just over 1000. Both ships are designed to give space and comfort to all guests and the first class standard of service and design coupled with some of the most innovative activities and on board entertainment, life on board is a five star experience.
Crystal Serenity is commissioned for world cruises and durations range from 12 to 22 days. Concentrating on the Pacific Ocean the world cruise itineraries focus on locations spanning the whole of this vast area. There are over 40 destinations during the voyage including; New Zealand to Australia, Singapore and Hong Kong and San Francisco to Tahiti.
These oceanic cruises provide passengers with a fantastic experience which is rich with culture, history and breathtaking scenery. Setting sail from Los Angeles, this Pacific Ocean cruise is filled with sophistication and luxury while on board and steeped in fascinating excursions of over forty towns and cities in this diverse landscape of the world.
Talk to Sovereign Cruise today and discover a whole new world aboard a Crystal cruise liner.
Return to World Cruises