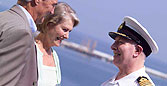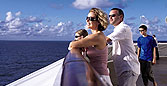 Choosing a world cruise can be one of the hardest decisions to make. There are so many options and itineraries available with mouth watering cuisine, fabulous destinations and accommodation which are all first class. Due to the length of a world cruise it is important to carefully consider the right cruise liner and itinerary to fit your needs exactly.
Sovereign Cruise is expertly placed to provide excellent world cruise advice to potential travellers for their holiday of a lifetime. It is important to consider the type of cruise you want; whether you prefer a quieter and more intimate voyage or the grandeur of one of the biggest ships on the seas. Sovereign Cruise is an agent for Cunard, Silversea, Regent, Seabourn, Oceania, Crystal, Princess & P&O.
Ensuring you visit all the destinations you want to discover is also a major consideration when choosing your cruise and Sovereign Cruise can advise you on the options available to you. A luxury world cruise can last over 100 days with over 25 countries on the schedule however there are shorter, more tailored cruises available which concentrate on specific regions rather than encompassing all port locations across the whole of the globe.
Speak to Sovereign Cruise today and we will spend all the time you need in advising you of the right world cruise for you and ensure you embark upon a journey of luxury and delight which will bring you back to the seas year after year.
Return to World Cruises