Embark on a civilised adventure.
if you haven't sailed with Cunard before, you will soon become accustomed to certain aspects of the cruise that are uniquely Cunard.
The first is being the centre of attention - because the sight of our ships and their distinctive red-and-black funnels always causes a stir, wherever they dock. Another is the sense of space on board - from large open decks to magnificent atriums, you are equally sure to find an enclave of calm as a lively activity.
The Cunard fleet comprises of three exceptional ships - Queen Elizabeth, Queen Victoria and Queen Mary 2. Grand in scale yet, stylish down to the tiniest detail, each one is a world unto herself. An oasis of discovery and relaxation, and the perfect setting from which to explore new destinations or old favourites.
Naturally British at heart, Cunard continues many fine traditions found on board our liners of the past. No matter where you are in the world, Afternoon Tea is served at 3:30pm sharp, by white-gloved waiting staff. Hand crafted sandwiches, cakes and scones are always accompanied by tea served in gleaming white china on crisp white linen, often while a string quartet plays in the background.
After dinner themed Balls are part of Cunard legend too. Share in the sense of occasion that comes from dressing up and taking to the floor in the largest ballrooms at sea in the Queens Rooms, accompanied by renowned musical ensembles and big bands.
Please see the video below for the latest clips of the Cunard Grill Suites that are the epitome of the Cunard experience on all three luxury ships.
RMS Queen Mary 2 Remastered
Cunard have unveiled the next chapter of innovation and investment with an extensive refurbishment of their iconic flagship Queen Mary 2. She has received a significant refit that introduces enhanced interior designs and guest experiences as well as new Britannia single and Club Balcony staterooms.
A clever reconfiguration of the furniture maximises every inch of accommodation and creates a more dramatic definition between living and sleeping space. In terms of palette, Cunard's signature strong blues and reds are being introduced, complimented by neutral background hues and delicately contrasting dark and light timbers - all evoking an Art Deco feel while being utterly contemporary.
All grades of Queens Grill and Princess Grill suites on Queen Mary 2 have had a complete make-over on Queen Mary 2. Each suite offers unsurpassed levels of comfort and elegance, in keeping with the expectations of today's discerning guests and with Cunard's iconic heritage.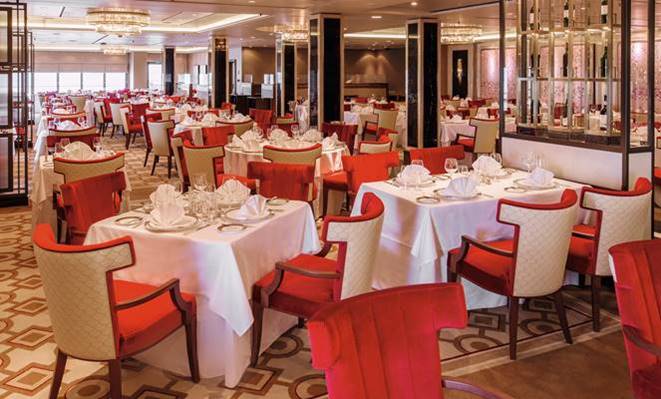 (Pictured above) The remastered Queens Grill Restaurant on Queen Mary 2
The award-winning Queens Grill and Princess Grill restaurants already provide some of the finest dining at sea, with guests enjoying superb a la carte menus and carefully curated wine lists in stylish and intimate surroundings whenever they choose to dine. Queen Mary 2's remastering elevates the experience even further.
Elegant new décor incorporates dramatic new window dressings, decorative lighting and feature wine cabinets - while the reconfiguration of both restaurants offers more sought-after tables for two.
The art-deco opulence of these incredible liners will have you staring in awe
Regal and historic it may be, Cunard Liners are far from stuffy and a very warm welcome awaits you. Bask in the stunning interiors and enjoy an array of fun and interesting activities on offer including RADA acting lessons to bring out your inner Downton Abbey character.
Enjoy
Luxury spa
Swimming pool
State-of-the-art sports facilities
Elegant and trendy bars
Truly delicious cuisine
Making sure you get the best out of your break, our team are on hand to give you insider knowledge of the best staterooms and suites to book, the best restaurants and bars on the liner and other unique details that will make your Cunard cruise even more special for you.
Cunard Signatures
Elegance & Sophistication
Rediscover the glamour of ocean travel's golden age, as you dress for dinner, attend elegant Champagne soirées and waltz across the largest ballrooms at sea.
Legacy & Tradition
With three majestic ships currently sailing under the famous Cunard house flag, Cunard exemplifies true grand scale luxury, with a glorious history across three centuries.
Cunard's proud past is brought to life amidst fascinating exhibits and timeless traditions, such as elegant afternoon tea impeccably served by white-gloved waiters.
Exquisite Dining
The variety of the dining menus means every meal on your cruise is exactly to your liking. From memorable grill dinners and healthy lunches to Asian fusion or gastro pub favourites, the Cunard chefs take immense pride in surpassing themselves, day after day.
Whether your accommodation means you're dining in the Britannia Restaurant or the Princess Grill or Queens Grill, everything is beautifully presented and offered with wines that compliment your choice perfectly. You'll also find many tempting vegetarian dishes and we'll happily cater for most special dietary requirements. On board all three ships, buffet-style dining is available throughout the day and until late evening. For those more informal lunches, the ever-popular Golden Lion Pub welcomes you with traditional gastro-pub fare.
British Luxury
Cunard ships are staffed by British officers and exude an unmistakable Britishness, reflected in both the on-board entertainment and hallmarks such as their famed White Star Service. No matter whether you are enjoying your very first Cunard cruise or are a valued regular Cunarder, you will enjoy exceptional service and attention to detail throughout your voyage.
Traditional & State-of-the-Art Entertainment
From spectacular shows to 3D film screenings and a planetarium, Cunard reward guests the simplest pleasures. There are daily surprises too. Your favourite writer may be on board, or a much-loved play on the theatre bill. Each cruise promises memorable times, whether it's joining in classes or mingling over cocktails and music on deck during a Sailaway Party.
Hot-foot it to a tango lesson or spend the afternoon socialising in a martini mixology class. Learn how to get the most from an iPad or, if you finish your photography lesson early, put your new skills into action - Cunard's three Queens are nothing if not photogenic. From fencing and watercolour painting to shuffleboard, you're spoilt for ways to brush up on existing talents or to discover ones you never knew you possessed.
If you're more a fan of quiet contemplation, lose yourself in any one of the 6,000 books in the largest libraries at sea. Take a stroll around the promenade deck - perhaps you'll spot a dolphin or two. Or simply people watch from the comfort of a poolside hot tub.
Legendary Voyages
RMS Queen Mary 2 alone operates a regular timetable of classic Transatlantic Crossings and she and her smaller sisters continue Cunard Line's rich tradition of World Voyages, the epic global adventure pioneered by Cunard's Laconia in 1922.
It is now simply a matter of deciding which Cunard cruise will most encourage you to leave it all behind...
(Pictured above) The Queens Room on Queen Mary 2