For more than 140 years, Holland America Line has been a recognized leader in cruising, taking guests to exotic destinations around the world. If you are looking for some of the most spacious and comfortable ships at sea, award-winning service, elegant dining, extensive activities and enrichment programs and compelling worldwide itineraries, you've come to the right place. Holland America are committed to their mission: Through excellence, they create once-in-a-lifetime experiences, every time.
Today, Holland America Line's fleet of 13 modern classic ships offers more than 500 sailings a year visiting all seven continents. Cruises include both popular and less-traveled ports in the Caribbean, Alaska, Europe, Mexico, South America, the Panama Canal, Australia, New Zealand and Asia — as well as unique voyages to the Amazon, Antarctica and our extended Grand Voyages.
We don't just want you to see new places, we want you to experience them. When you sail with Holland America you will benefit from "On Location," a programme designed to enhance your appreciation of the lands and cultures we visit. These all take place on board to make your time on the ship as varied and interesting as your time on land. Learn tai chi from a master in Asia, steel drums in the Caribbean and make a fresh Flower Lei or learn to hula from a Hawaiian local. In addition to these wonderful experiences, the entertainment and cuisine are also tailored to their area of travel. Have a Mexican fiesta one night and stargaze the next, all whilst sampling the divine and exotic local food.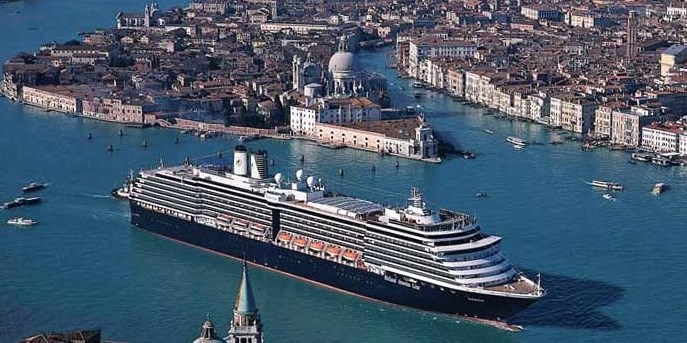 Top cuisine
Some of the world's most influential chefs have contributed to Holland America's culinary programme resulting in the most flavoursome and creative meals on the ocean, and with such outstanding and mouth-watering variety, there is something for even the most refined pallets. And, of course, combining delicious cuisine with "On Location" means that you have the opportunity to learn how to create fresh meals from all over the globe and pick the perfect wine to go with them.
Included in your cruise fare is the magnificent main Dining Room. For an elegant breakfast, leisurely lunch or unforgettable five-course dinner, the two-tiered Dining Room is your destination for sophisticated dining aboard. The menus feature classic favorites and vegetarian choices and regionally inspired cuisine prepared by chefs who have been inducted into the prestigious Confrérie de la Chaîne des Rôtisseurs.
Refined and luxurious, romantic and intimate, the Pinnacle Grill represents the pinnacle of exceptional cruise dining, all for a nominal fee. Make reservations for an intimate lunch or dinner with dishes inspired by America's Pacific Northwest, including delicious seafood and choice, sustainably raised beef from Washington State's Double R Ranch.
Experience the illustrious Le Cirque restaurant for at least one night per voyage. Master Chef Rudi Sodamin worked with Le Cirque's Executive Chef Craig Hopson to re-create the legendary eatery's whimsical ambiance and award-winning cruise dining experience on board in the Pinnacle Grill for a nominal fee.
"Spartire" is the Italian word for sharing; Canaletto Restaurant's new menu is designed around this authentic Italian experience and offers a variety of dishes to enjoy and share with family and friends for a nominal fee.
Aboard the ms Eurodam and ms Nieuw Amsterdam, enjoy the Tamarind, available for a nominal fee. Delight in the stunning panoramic views and tantalizing food evoking the rich culinary traditions of Southeast Asian, China and Japan.
The Lido Restaurant at the top of the cruise ship offers relaxed dining with a variety of selections, all included in your cruise fare. Rise and shine to a variety of breakfast selections including pancakes, fresh fruit, eggs and omelets cooked to your liking. Lunch offers bountiful choices such as sushi, gourmet sandwiches and an extensive salad bar. For dinner, enjoy entrées from both the Lido and the main Dining Room.
For a perfectly grilled burger on brioche, gourmet hot dog, crispy French fries or a taco bar with all the fixings, there's nothing better than alfresco dining by the pool at Dive-In at the Terrace Grill. Look for imaginative toppings and sauces to enliven classic burgers and dogs, along with veggie-friendly and healthier options, all included in your cruise fare.
Plenty to keep the children entertained
There's a wealth of activities from:
Treasure hunts
Pizza making
Video game tournaments
Karaoke
Dance classes
Teen-only events for slightly older kids to keep them occupied too
Holland America has a proud history of delivering the extraordinary promising nothing less than pure comfort and luxury as well as:
A relaxing spa
Fitness centre
Digital Workshop powered by Windows, for those who are more technically orientated.
On a Holland America liner the staff are warm, welcoming and committed to making your cruise everything you dreamt of.