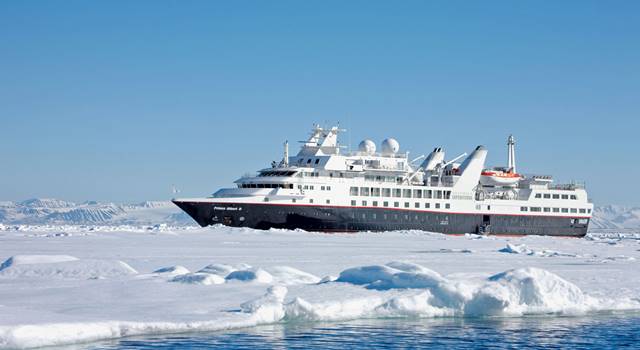 Announcing Silversea First Ever Expedition World Cruise in 2021
Exploring the secrets of the world is not a task for an ordinary cruise - especially when the secrets are about uncharted wonders, extreme latitudes, and entire months with no time for boredom. It is the "The Uncharted World", and in 2021 it will be explored by the first Expedition World Cruise in history: the first designed to host the pioneers of beauty, guests who want to see the world raw and unfiltered, unafraid of its purest form.
From Ushuaia to Tromso on the 30th January 2021 for 167 days onboard Silver Cloud Expedition. The voyage will be on sale in March 2019, however, please call us on 03331 224466 to pre-register your interest.
Unique Expedition Destinations
Expedition cruises are for the curious traveler who longs to see an orang-utan in the wild or what lies behind the next mountain ridge. But it's not just about wildlife or mountains. It's about immersing yourself in the culture, landscape and habitat of a region with the help of experts who can illuminate all you see. From the lush rainforests of the equatorial Pacific to the polar extremes at the very edge of the world, our expedition ships sail to all seven continents. You can explore pelagic wonderlands, admire volcanic plateaus gushing with geysers, or enter the realm of the Polar Bear.
But no matter where you go, you'll enjoy a uniquely immersive experience, expanding your global perspective and prompting you to re-evaluate what really matters. And rest assured- no creature comfort will be denied on an expedition cruise with Silversea.
Discover the world's most intriguing ports while travelling in extraordinary style aboard Silversea's intimate luxury cruises. Silversea's small luxury ships offer enormous opportunities for you to explore the 7 continents and over 800 fascinating destinations on an all-inclusive cruise. Sail directly into the heart of St. Petersburg, around the tip of Cape Town, along the oil-rich sheikdoms of the Middle East, across bustling Sydney Harbour and through breathtaking Chilean fjords. On the expedition cruises, every journey is new and unique. Fully immerse yourself in the world's most unspoiled landscapes, from the primeval Galápagos Islands to the lush, tropical edens of Polynesia to the frosted wilderness of Antarctica.
Escape to pristine hideaways in the Lesser Antilles, embrace ancient splendours of the Far East, and be awed by Alaska's magnificent Hubbard Glacier. Or delve into all of the wonders of the wide world on a Grand Voyage or World Cruise.
Specialty Expedition Cruises
Silversea's Specialty Expedition Cruises allow you to fulfill your desire to explore remote destinations with the care of expert guides while igniting your own passions and interests on your expedition. Each voyage has been expertly crafted with unique added features - diving to explore underwater flora and fauna, photography workshops to capture memorable moments, ornithology experts to help you spot rare birds, culinary tours to fully savour authentic cuisine and yoga classes to relax and rejuvenate.
This is the joy of expedition cruising. Incredible scenery awakens the photographer; awe-inspiring marine life beckons the diver; rich, exotic aromas entice the culinary connoisseur. Whatever your special interests may be, there is an expedition with Silversea that can satisfy your passion for discovery. Browse our specialty expeditions below and begin planning your voyage of exploration.
Adventure & Exploration
Whether it's attending a briefing, exploring by Zodiac, or hiking on terra firma, an expedition cruise with Silversea will immerse you immediately in your destination. One day you could be snorkelling with sea turtles, the next day blazing a trail through an old growth rain forest while long-tailed macaques screech overhead.
Every moment can amaze: a Wandering Albatross lifting its enormous wings to take flight, a whale so close you can count the barnacles on its back. Silversea Expeditions' complimentary activities guarantee close-up encounters with a region's unique flora and fauna, its most remote landscapes and habitats … and with the insight of expert guides who are always at hand.
This is the joy of expedition cruising. Incredible scenery awakens the photographer, wild adventure beckons the explorer, close-up encounters with Stone Age cultures await the adventure traveller. No matter what your special interest, there's an expedition with Silversea that can satisfy your passion for true discovery in a highly personal and immersive way.
Marine Exploration - A fleet of Zodiacs allows guests to explore even the most off-the-beaten locations. Or go deeper on a snorkelling, scuba diving or kayak expedition. Every nautical mile in these remote regions offers opportunities to uncover nature's secret wonders.
Land Adventures - Discover the ruins of ancient castles, or hike through the natural wonders that surround you. More than mere sightseeing, these on-land expeditions offer remarkable insights. Each land exploration is in small groups of like-minded adventure travellers and is always accompanied by a specialist who is there to describe the nature formations and wildlife.
Onboard Learning - Daily briefings, recaps and lectures are presented by an Expedition Team of the highest calibre hand-picked for their expertise in a variety of fields and first-hand experience of the destination. You can join a guide on deck to identify the seabirds, or chat with the navigational officers on the Bridge.
Enriching Experience & Adventure
Wildlife - Come face to face with a Galápagos Penguin. Admire the pelagic wonderlands of New Zealand's Sub-Antarctic Islands. Glimpse a Stellar Sea Lion in the Sea of Okhotsk. From polar bears in the Arctic to pygmy hippos in Borneo to iguanas in the Galapagos, the world's wild creatures await your discovery.
Photography - A picture is worth a thousand memories, and there's no better place to pick up pointers from the pros on how to point and shoot than a photo expedition cruises with Silversea.
Local Cultures - Music, dance and warm smiles welcome us to the remote, rarely visited places we visit. Hospitality is such that special invitations with local people are often extended. It may be a funeral celebration in Torajaland, for example, or a melanggan feast in Melanesia. Each expedition cruise destination contains a rich heritage of local communities, and the thrill of adventure is a cultural one, too.
History - Informative seminars broaden our understanding of cultures, past and present, and in the company of expert guides our cruise excursions explorethe human history of our destinations — a private opening at the Guggenheim museum in Bilbao, a recent dig in Peru revealing pyramids of the Mochica culture. From medieval abbeys in the British Isles to "slave castles' on Africa's western coast, history intersects with the present on your Silversea Expedition.
Scenery - Thundering waterfalls, plunging gorges, undulating desert dunes as far as the eye can sea — our three expedition ships sail to some of the most exquisite corners of the planet. What do you dream of? Giant, blue-tinted icebergs that sparkle like diamonds? Misty volcanoes and coral wonders? Low-lying atolls afloat in a turquoise sea? Your choice.