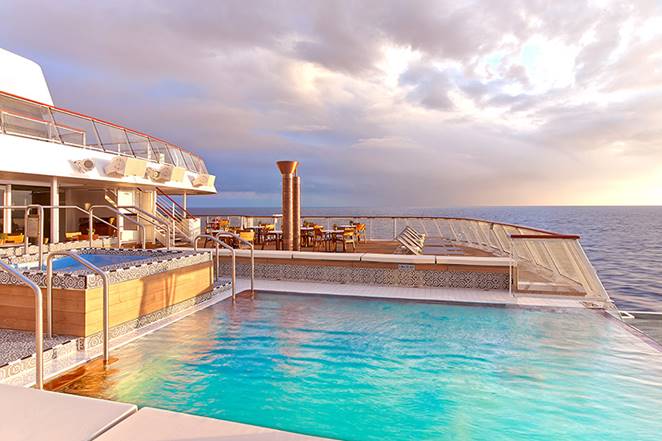 Viking Cruises offers destination-focused cruises, which are carefully crafted with a mix of cosmopolitan and smaller ports of interest.
Late evening and overnight stays, allow passengers to take advantage of night life in select ports of call.
Expand your horizons
Viking offers comfortable, state-of-the-art ships, intimate and thoughtfully created by experienced nautical architects and designers to enrich your interaction with your destination in every way.
With their innovative design, state-of-the-art technology and supreme comfort, the Viking Ocean ships encompass everything that Viking stands for. Your home away from home is one that you'll find easy to live with, and hard to leave.
Designed with a unique onboard experience in mind
From the
Serene Wintergarden, perfect for a calming cup of tea
The Spa, a Nordic sanctuary of wellness
The Library, carefully curated with books to add to your knowledge
There are a range of other onboard amenities that will maximize your destination experience including the main pool, complete with retractable roof. The infinity pool is designed to give you a sense of swimming in the middle of your destination, whether it is at sea or in port.
In the evening, the space transforms into the Aquavit Terrace, where you can dine accompanied by music as the world unfolds around you.

(Pictured above) The Wintergarden
Viking take a further leap forward
With the launch of our new ocean ships Viking Sea and Viking Sky in 2016, Viking intend to transform ocean cruising.
The three ocean ships are built for easy embarkation and disembarkation, and for less and faster tendering to give you more time in port.
Quality and choice
Viking prides themselves on their food choice and quality. The new ocean vessels will put the spotlight on fine dining in their contemporary restaurants and these will be inspired by the lands through which you are travelling.
As destination experts, Viking takes you to more places, and present behind-the-scenes insights and opportunities that set apart from all other cruise lines. Viking go beyond the most iconic visits to museums and landmarks by offering itineraries that include a local life experience and a working world experience, as well as optional privileged access experiences that open doors to worlds less accessible.
Oceans of Space
A vision fulfilled, Viking Star, Viking Sea and Viking Sky are like no other ships.
Contemporary yet classic. Stylish yet comfortable. Spacious yet intimate. Stepping aboard is like stepping into the ultimate boutique hotel.
The antitheses of a mega ocean cruise liner with thousands of people, each ship accommodates just 930 guests. Large enough to give you all the space you dream of, yet small enough to sail to destinations that bigger ships cannot reach.